PC tune-up software: does it really work?
Part Two: Windows Vista
We have to admit, the limitations of our Photoshop CS4 benchmarking mean the benefits of additional Ram aren't truly reflected here. We used the first four parts of DriverHeaven's Photoshop Benchmark V3, which is a simple script that times a number of transformations applied to a high quality image. We found a notable increase in performance in the first quarter of this test - up ten per cent - with a Ram upgrade, but the other three tests were constrained by the rest of the PC. The gap between the different tune-up applications is insignificant.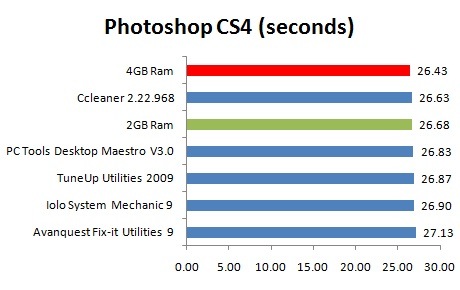 Photoshop CS4 will run better with 4GB Ram
Shorter bars are better
Many hardware geeks can prove you get massive gains in gaming performance when you add extra Ram, but this isn't always the case. In the first person shooter Left 4 Dead, there was only half a frame per second increase in performance - nothing to improve the gaming experience. If we had turned up the quality settings, enabled anti-aliasing and upped the resolution, the Ram will have been more effective.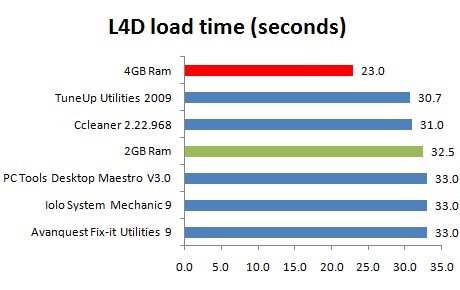 Gamers rejoice: Left 4 Dead load times were slashed with additional Ram
Shorter bars are better
But this is a real, day-to-day usage PC and on playable settings - above 60f/s - the Ram doesn't make a notable difference due to CPU and GPU bottlenecks. Load times were all much the same, except for the 4GB PC which sliced 9.5 seconds off the 2GB setup.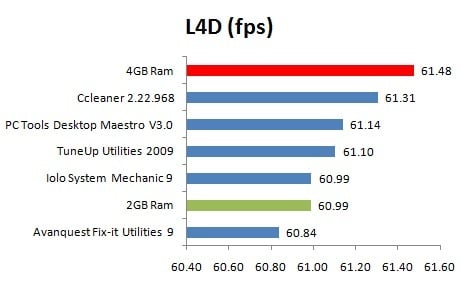 Frame rates don't always shoot up with more Ram
With all the benchmarking done and dusted, we recorded how much free Ram there was. More Ram makes for a more responsive system when you run lots of programs at once, so the upgrade is a no-brainer. But, just as with our XP laptop, the tune-up applications also made more Ram available on our Vista PC too. System Mechanic 9 led the way, just as it did on our XP laptop, freeing up 70MB of memory.
Sponsored: Minds Mastering Machines - Call for papers now open