PC tune-up software: does it really work?
Part Two: Windows Vista
As well as a start-up time test, we also ran Office 2007, Photoshop CS4 and Left 4 Dead benchmarks, each designed to reflect real-life use as closely as possible. To ensure a fair test, anti-virus, Windows Updates, indexing and system restore were disabled, and we reloaded exactly the same hard drive image before each software package was installed. The two Ram setups were both tested.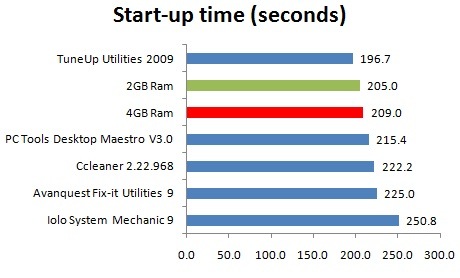 TuneUp Utilities 2009 takes the lead, although there was quite a high margin for error
Shorter bars are better
We used the idiot-proof 'one-click' performance optimisations, registry fixers and registry defraggers offered by each tune-up application, followed by two restarts and then testing. Once we had run all the benchmarks once, we rebooted and benchmarked again, then rebooted and benchmarked a final time.
Anyone with Vista experience knows the hard drive seems to be endlessly busy, especially at startup. Although we tried to keep things consistent by disabling Vista's indexing, updates, anti-virus and the like, we ended up on with a 95 per cent confidence interval of ±13.4 on the stock system, which means we can only say for sure that Iolo's System Mechanic 9 was slower. This result flies in the face of what we experienced in with Windows XP article, where System Mechanic was the quickest booting setup.
When confronted with such a poor result, Iolo blamed the lack of an internet connection, saying "the engineers are wondering if the 'unplugged' state is an issue vs. being plugged in and just not having access, which should be easily accommodated). They have seen Windows stall when a software program requests network/internet access and Windows goes into a wait-state while it hopes the wire gets plugged back before returning a 'can't connect' response to the software".
We didn't test with an internet connection because it adds inconsistencies to our results. But everyone goes through periods of not being plugged in to the net – perhaps because they're on the move with a laptop, or when their modem is turned off – which suggests using System Mechanic 9 in Vista may be a disadvantage.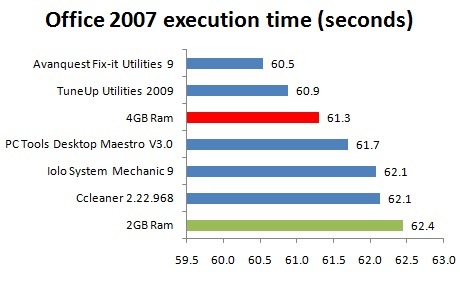 Microsoft Office 2007 performance is improved, albeit marginally, by tune-up software and extra Ram
Shorter bars are better
We were pleasantly surprised to see the software all make a positive difference to Office performance in Vista, using DMS' Clarity Studio. Fix-it Utilities did a poor job on our XP system, but the tides have turned in Vista. TuneUp Utilities did well in XP and continues to do a good job in Vista. Increasing the amount of memory doesn't have as big an effect as on an older, memory-bound XP laptop, probably because 2GB Ram is plenty for Office to work with.
Sponsored: Minds Mastering Machines - Call for papers now open