Altec Lansing Expressionist Plus v. Edifier E3350
Two 2.1 speaker systems sound it out
As a final musical hurdle we played some more Beethoven, this time the Op. 131 string quartet. Though the Altec's definition was once again very fine, we noticed a greater feeling of warmth from the Edifier speakers, which made the music rest just a little more easily on the ear than the rather sharper Altec's.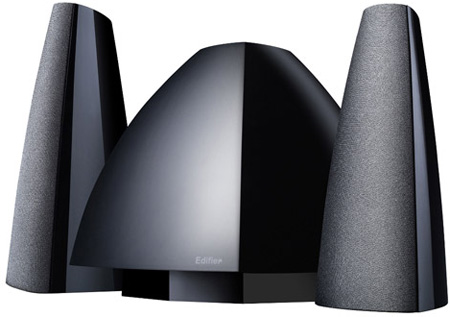 The Edifier takes the cake on features and sonic robustness, although the Altec has the edge for movies
Before calling it a day we watched the opening 15 minutes of Star Wars, Episode III: Revenge of the Sith on a netbook while swapping back and forth between the two speaker systems.
Here the Altec system closed the gap, with dialogue sounding clearer and more to the fore than playback through the Edifier rig. Still, both systems gave the sound effects of war in space a highly impressive immediacy, while also giving John William's epic musical score room to roam. After trying both systems with other videos, we would actually be inclined to favour the Altec system, if this was the primary intended use – the drama may be less, but the balance is superior.
Verdict
Buy either of these speaker systems and you are not likely to be disappointed. Both look and sound the part and provide an impressive audio experience for music, video and game play though each system has differing strengths in each field. For our money though the Edifier system is just the bit more grown up of the two. Its larger satellites make it a better bet for loud music than the Altec system and you get that handy cabled remote control. To seal the deal the Edifier's RRP is £10 less than the Altec's. ®
More Speaker Reviews...

Soundcast
Outcast Junior

Altec Lansing
inMotion Max

Edifier
Luna 2

DGA
Livespeakr
Sponsored: Minds Mastering Machines - Call for papers now open

Altec Lansing Expressionist Plus v. Edifier E3350
A fine all-round speaker system that comes into its own with music that requires a lighter touch, rather than outright power, and offers good definition when listening to feature films.

Altec Lansing Expressionist Plus v. Edifier E3350
With a phenomenal subwoofer, two quality satellite speakers suited to most musical genres and a clever volume remote, this system just wins this head-to-head.