Altec Lansing Expressionist Plus v. Edifier E3350
Two 2.1 speaker systems sound it out
The two Edifier satellites are also substantially larger and heavier than their Altec counterparts. Looking like miniature bookshelf speakers they stand at 240mm height and measure 100mm across their felt-covered bases. By comparison the Altec satellite speaker housings measure 90mm in diameter and weigh about a third as much.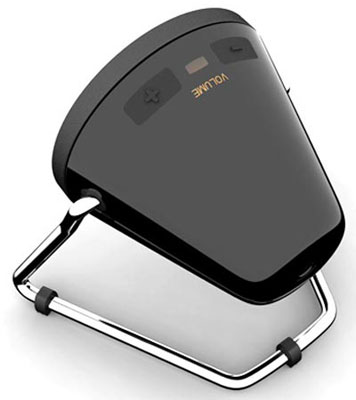 Altec's satellite speakers have the edge on clarity
The size differential continues with the subs, the Altec measuring up at 160mm tall and having a diameter of 260mm. The off-pyramid shaped Edifier unit meanwhile is 200mm tall, measures 290mm front to back and 240mm across it its widest point. The Edifier is also the more hefty of the two units – at around 3.5kg it's over 500g heavier than the Altec.
Connection ports on the Altec sub run to two 3.5mm audio inputs – one labelled Input and one Aux – plus a DIN connector for the satellite speakers and a power socket. Around the back of the Edifier sub you will find 3.5mm audio-in and speaker-out jacks along with a power socket and a 9-pin D-type connector.
While Altec put the system volume controls on the right hand satellite, using the DE-9 connection the Edifier features a cabled remote volume controller with a machined aluminium knob surrounded by another red halo LED. It's another nice touch and a great bit of design. The remote unit also houses a 3.5mm headphones jack and an similarly sized auxiliary audio-in, the latter being especially handy if you are forever swapping your input source and don't want to keep changing jacks around at the back of the subwoofer.
The Edifier subwoofer is not without a few design faults though. The cable sockets are very tightly grouped together at the back, so when you move the unit you need to take care that they don't tangle, jam and prise themselves loose. Also, the bass control is hidden away at the back of the sub unit making it a pain to access with ease.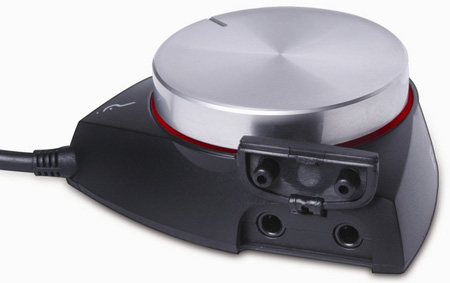 Edifier's remote features audio interfacing
Edifier has missed a trick by not putting both the volume and bass controls on the remote. To make matters worse the Edifier's bass control has no visual indication of its setting. By contrast Altec put the bass control where it should be, on top of the sub housing and combined with the on/off switch.
Sponsored: Minds Mastering Machines - Call for papers now open