Mitsubishi builds monster OLED telly
Almost four metres - and it could go larger...
LG's 15in OLED TV is no longer the world's largest, because Mitsubishi has just shown off a whopping 155in organic LED screen in Japan.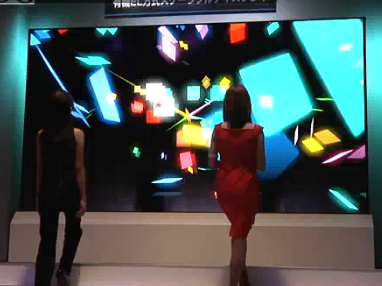 Mitsubishi's 155in OLED panel
Credit: IDC
It's a wee bit of a cheat: Mitsubishi's Diamond Vision OLED display is constructed from individual OLED panels – each about the size of your palm – that can be slotted together to form an OLED screen measuring, well, pretty much any size you want.
If 155in isn't big enough for you, just clip together more of the mini panels.
The firm told news service IDG that each panel contains red, blue and green OLEDs. You'll need to stand at least 2m away from the display to see an image.
Don't expect build-your-own OLED kits to appear in electronic stores anytime soon, though, because Mitsubishi expects the technology to be used for advertising. ®
Sponsored: Minds Mastering Machines - Call for papers now open