Star-watchers: Famous moon left half-smeared by dirty ring
'Irregular grindings' responsible, apparently
A well-known moon has been smeared half-dark by dirt coming from an enormous ring, according to reports.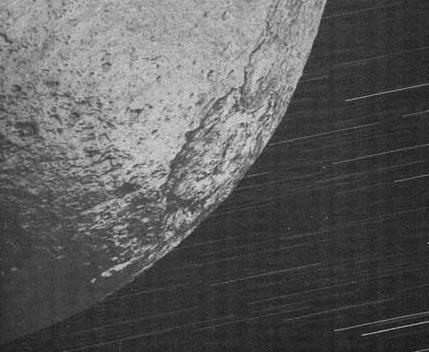 The dirt boundary of Iapetus.
Science magazine has the story, quoting "ring specialist" Joseph Burns as saying: "It's nice to finally see a smoking gun that tells us exactly what happened."
Burns and his colleagues have long been interested in Iapetus, eighth moon of the famously ringy gas giant Saturn. Ever since it was discovered in the 17th century astronomers have been aware that the strange satellite had a bright face and a dark face, but have been unsure why this should be so.
The answer, it seems, is a previously unsuspected ring of dust, further out than the other rings of Saturn, which deposits an endless shower of dirt onto the leading face of Iapetus. As the moon is tidally locked - it doesn't spin about its own axis, instead always keeping the same face to its primary - all this dust settles on just one side.
Science reports that the new dirty ring's discovery was announced at an astronomers' conference in Puerto Rico yesterday. It seems that the new and record-breakingly large ring was detected by the Spitzer infrared space telescope orbiting the Earth.
The boffinry mag describes the process by which the doughnut-shaped dirt-cloud is continually replenished, even as much of it gets deposited on the grubby face of Iapetus:
At least three dozen or so "irregular" satellites, including Phoebe, whiz every which way within the giant ring. As wandering asteroids and comets hit these objects, they kick off debris, which in turn collide with other debris and strike yet more satellites. So the grinding down of irregular satellites produces the dust ring.
The dirty-ring moonsmear issue may not be confined to Iapetus, the scientists said. NASA boffins said that other moons both Saturnine and Jovian showed signs of similar darkening. ®
Sponsored: Minds Mastering Machines - Call for papers now open