HTC launches Touch HD 2
WinMo 6.5 plus firm's own UI
HTC has confirmed recent rumours of a successor to its HD smartphone, by officially unveiling the HD 2.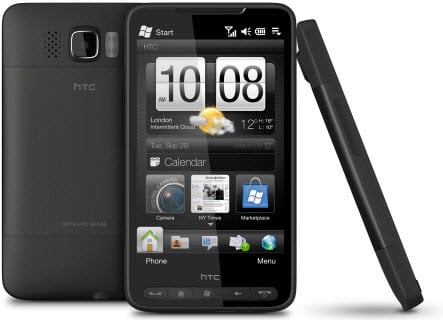 HTC's HD 2: runs Windows Mobile 6.5, with an HTC-designed UI on top
Although based on the newly launched Windows Mobile 6.5, the HD 2 is overlaid with HTC's Sense UI.
The UI already features on HTC's Android-based smartphone, the Hero, but this is the first time that Sense has appeared on one of the firm's Windows-based phones.
The phone is based on Qualcomm's 1GHz Snapdragon processor and has a 4.3in capacitive touchscreen. A 5Mp camera lurks around the back.
Wireless connectivity is possible over Wi-Fi and 3G links, and – provided you splash out for the optional car kit – the integrated GPS chip turns the phone into a "finger friendly" in-car navigator.
HTC said the phone will be available throughout Europe later this month. A UK price hasn't been confirmed. ®
COMMENTS
Mimicry the best form of flattery
... WinMo honours Android. Not bad. Maybe HTC can suppress WinMo completely. Put it out to grass, so to speak. Especially as HTC have no reason at all now for using such an outdated, obsolete and rather tired old OS.
Cool.
This phone looks awesome. HTC Sense also seems like an improvement on the current HTC Touchflo interface.... And with that capacitive screen too - it almost makes me regret getting a TouchDiamond2 instead of waiting for this...