TDK to haul out HAMR heads
Next-gen read/write reportedly on way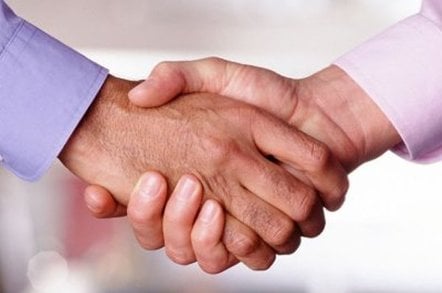 Disk head supplier TDK has reportedly demonstrated a next-generation read/write head using heat-assisted magnetic recording (HAMR) for the first time, opening a route to 1Tbit/sq in areal densities and beyond.
The background to this TDK announcement at CEATEC 2009, an electronics exhibition in Japan, is that magnetised bits on hard disk drives (HDD) are shrinking as capacities rise. We're moving from fourth to fifth generation PMR (perpendicular magnetic recording) with areal densities around 350-400Gbit/sq in and looking to move to around 500Gbit/sq in. (This will get us to 3TB-plus 3.5-inch hard disk drives and terabyte 2.5-inch ones.)
The bits get smaller and become more susceptible to having their values altered by heat variations. Hot disks could deliver different data from cool disks.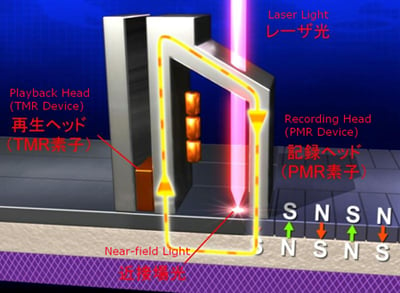 TDK image of HAMR read/write head from TechOn.
One answer to this is to make the recording medium more resistant to heat-induced changes by increasing its coercive field strength (CFS), its susceptibility to magnetic field changes. Hard disk drive media already has a relatively high coercive strength because it is regarded as a permanent magnet. Low coercive field strength magnetic field media are used in HDD read/write heads and transformers.
The higher a bit's CSF the more resistant it is to changes induced by heat variations or, unfortunately, by a neighbouring magnetic field, such as that used by a HDD read/write head when writing data.
The HAMR way of getting round this is to heat the bit and so lower its CSF, making it practical to change its magnetic field to the desired value. The very localised heating needed is provided by packing a laser into the read/write head assembly.
This is what TDK has done. Existing HDD media apparently has a CSF rating of 5kOe (Oersted units) whereas its HAMR material had a 16kOe rating. The disk, manufactured by Showa Denko K.K. and using PMR technology, rotated at 7,200rpm, which is a pretty standard high-capacity SATA drive's rotation speed.
TDK said it had increased the power density of what it called the near-field light source on the read head tenfold to get the HAMR data recording and writing working.
The areal density of the disk wasn't revealed, which suggests it's not that impressive. TDK did say that it was important that the near-field light had a narrow width and that the HDD recording medium cooled quickly so that the applied heat did not spread from the target bit to neighbouring bits and so alter their magnetic state, inducing data errors, the very thing HAMR is designed to avoid. Both points are suggestive of the technology challenges TDK and media manufacturers have to overcome.
HAMR technology HDDs may be available in the second half of 2011 or in 2012 with a track pitch of 50nm which TDK thinks is achievable. The relationships between bit-patterned media (BPM), discrete track recording (DTR) and HAMR are still evolving, and it is not known how those three technologies will be used in the march towards terrabit areal densities and beyond. It could be that BPM and DTR will be used first with HAMR coming in as bits shrink even more and tracks get closer together. ®
Sponsored: Minds Mastering Machines - Call for papers now open