Fujitsu M2010 netbook
Shiny and solid, but still needs polish
Our review sample came with a 4800mAh, six-cell battery – a 2400mAh, three-cell version is apparently also obtainable, but we couldn't find one available to buy in the UK. Not only does the six cell battery stick out at the back, it also isn't a particularly snug fit and wobbles a little too much for our liking – not enough to cause any real problems, but Fujitsu could have done a better job with it.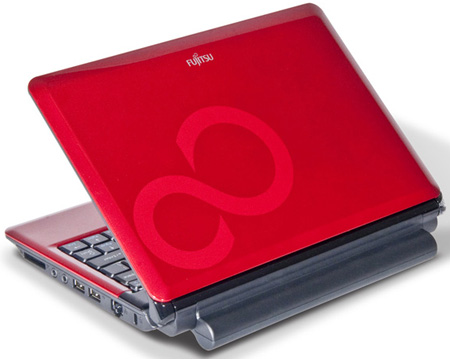 That six-cell battery is a far from perfect fit
Running our full-screen video test with Wi-Fi switched on and brightness set to full, it managed three hours 55 minutes before the lights went out. Not bad, but when compared to other six-cell netbooks, but it's not that great either. The similarly-spec'd Toshiba NB200, for example, powered on for over six hours in the same test, while both the MSI Wind U115 and Asus Eee 1000HE both managed well over five hours.
Given its standard netbook spec, it came as no surprise that the M2010 returned some familiar scores in PCMark05. As with all Atom N280-based netbooks we've tested, the CPU score passed the 1500 mark, while the Memory score is in line with the competition. With its Toshiba MK1655GSX hard drive spinning at 5,400rpm, the M2010 posted a HDD score of 4456, which is a little above the average. It also performed well in the GIMP Gaussian Blur test, with a time of 4.7 seconds.
Verdict
As netbooks go, the M2010 isn't a bad effort from Fujitsu and, had it arrived on our doorstep at the start of the year, it would have scored much higher. However, with so many models offering an almost identical core spec, manufacturers need to work hard to gain market share and Fujitsu has done little to make the M2010 stand out from the crowd. For just a little extra wonga, you can pick up a Toshiba's excellent NB200, which features a far better keyboard and longer battery life. Ultimately, the M2010 brings nothing new to the table and it looks very much like Fujitsu is playing catch-up when it comes to netbooks. ®
More Netbook Reviews...

Packard Bell
dot m/a

Dell
Latitude 2100

Samsung
N110

Toshiba
NB200

Fujitsu M2010 netbook
Solid netbook-style performance, but suffers poor battery life and keyboard shortcomings.