Philips BDP3000 Blu-ray disc player
1080p viewing for the masses, apparently
We also liked the speed at which Blu-ray and DVD discs load up. If you are used to players that blip the screen several times and churn away for a quarter of a minute before anything happens, then the BDP3000 will come as a pleasant surprise. It only takes a couple of seconds before the disc's home screen appears.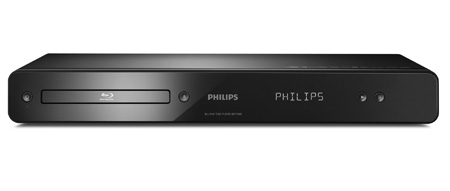 Described as 'super slim' it is actually quite a substantial piece of kit
The remote control handset is pretty good too, thanks to very simple navigation buttons, Philips having resisted the temptation to overburden it with obscure disc functions. Best of all, there is a big, friendly Home button to get you back where you started quickly.
There were no playback problems on any type of disc and the display was consistently solid and crisp for Blu-ray. The unit responded immediately to pause and restart commands, and we were unable to crash it by pressing random buttons in rapid succession (despite our very best efforts in this regard).
The only usability feature that the BDP3000 seems to have got wrong is the absence of an Eject button on the handset. This means you have to eject the disc by pressing the button on the player itself, but locating a black button on a black box in a darkened room is every bit as difficult as you might imagine. We suggest keeping a small torch handy next to the TV.
Verdict
The BDP3000 is a solidly built Blu-ray, DVD and CD media player that performs extremely well. It also provides a decent range of video-out and audio-out ports, plus an Ethernet connection. It is not an all-round media player, though: there is no wireless network support and the only way to get any media into the player is to burn it onto CD first. All this makes it seem expensive, although it is comparable in price to many other Blu-ray players. ®
More Blu-ray Gear Reviews...

Panasonic DMR-BS850
Freesat Blu-ray recorder

Pioneer BDP-51FD
Blu-ray player

LG BE06-LU10
Blu-ray recorder

Group test:
Blu-ray players

Philips BDP3000 Blu-ray disc player
Easy to set up and use but hardly the cheapest nor the most versatile Blu-ray player around.