Philips BDP3000 Blu-ray disc player
1080p viewing for the masses, apparently
Most BD-Live content needs to be downloaded, but the BDP3000 does not contain any storage media. What you do get is a USB socket at the rear that allows you to plug in an external USB storage device such as a hard disk.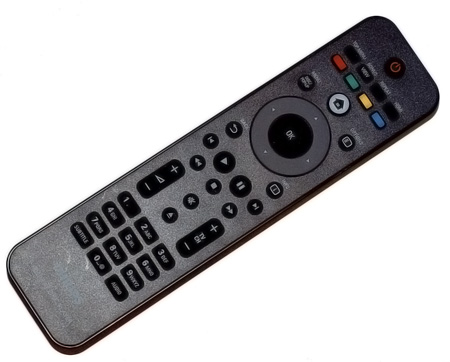 Simple to use remote and is compatible with any other Philips 'Easylink' devices
Be warned, however, that you can only use this USB connection for saving your downloads or for loading firmware updates. You cannot play back your own audio, picture or video files from the drive through this USB port. No doubt, this explains why the port is located at the rear, ensuring there is no misunderstanding about its purpose.
In use, the BDP3000 reveals some nice touches. As well as being a 1080p player for high definition titles, it handles automatic video upscaling in order to smooth out the jaggies when playing older DVDs and home movies at full screen. When running a slideshow of JPG images from a CD, the picture quality is surprisingly good too. If there are MP3 files on the same disc, you can set them to play in the background while you browse the images.
The BDP3000 offers five picture settings (Standard, Vivid, Cool, Action and Animation) although we preferred to stick with the customisable picture settings on our TV. Philips has included a Night Mode for the audio output, which subdues sudden noisy bits in action films, and there is even a 'screensaver' to customise if you have too much time on your hands. It even comes with parental controls that allow you to restrict access to age-rated discs.
For us, the main attraction was the simple usability of the product compared with modern consumer leisure hardware, which tends to be top-heavy on the tech. With the BDP3000, you just insert a disc and play it: no need to navigate umpteen levels of multidirectional menus.