Crucial CT256M225 256GB SSD
The best value solid-state drive yet?
It's something of a mystery why the Crucial drive is so much faster than the Patriot when the two drives share the same controller and firmware but Crucial definitely has an advantage. Or rather, the 256GB Crucial has an advantage over the 128GB Patriot. Crucial is launching the M225 SSD with capacities of 64GB, 128GB and 256GB, and the three models have differing read and write speeds. The 256GB M225 Crucial has a 250MB/s read speed and a 200MB/s. The 128GB model has the same 250MB/s read speed and a slower, 190MB/s write speed, while the 64GB limps along at 200MB/s ead and 150MB/s write.
2GB File Transfer Results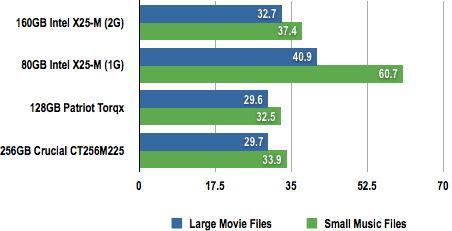 Time in Seconds (s)
Shorter bars are better
By this stage in the proceedings we were feeling warm and affectionate towards the 256GB Crucial. But those emotions can often be shattered when the subject of money is raised. You can currently buy the 128GB Patriot Torqx for £287 which works out at £2.25 per Gigabyte, while a budget Kingston SSD Now V costs £1.45 per GB.
Imagine our surprise when we found that Crucial lists the CT256M225 for £421 at its own web store - £1.70 per GB - and we've found it on sale elsewhere at £380 which is £1.48 per GB. To put that in perspective, the second-gen Intel X25-M, which is much cheaper than its predecessor, costs £334 for 160GB which works out at £2.09 per GB.
There's no denying that the thick end of £400 is a hefty price to pay for storage, but Crucial is delivering superb value for money and a level of performance that is quite astounding.
Verdict
The 256GB Crucial M225 delivers in every department and shows that you can get performance and decent capacity at a reasonable price. ®
More SSD Reviews...

Intel
X-25M

Kingston
SSD Now V

Patriot
Torqx

OCZ
Vertex
Sponsored: Minds Mastering Machines - Call for papers now open

Crucial CT256M225 256GB SSD
Performance and a decent capacity at a reasonable price - for an SSD...