Is Brocade selling itself?
Fibre Channel vendor wants to be in the tent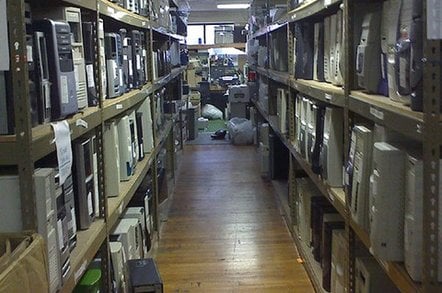 Brocade may have decided the best way to way address a changing datacentre market is to stitch itself to one of the big three server suppliers.
The Wall Street Journal is reporting that Brocade may have put itself up for sale.
Brocade dominates the Fibre Channel (FC) storage area network (SAN) networking and fabric market with its switches and directors. It has successfully defended its FC fabric products against an incursion by Cisco and responded to moves to layer the FC protocol on Ethernet (FCoE) by buying Ethernet networking vendor Foundry and developing its own FCoE strategy involving FCoE switches and Converged Network Adapters (CNAs).
The WSJ sources suggested HP and Oracle were looking at Brocade. The background being that HP's ProCurve networking unit could use an injection of Brocade fabric switch and director products and technology for its Foundry product line and FCoE technology, to better compete against networking rival number one, Cisco.
The overall background is that enterprise and cloud service provider data centres are looking to be able to provision complete virtualised IT stacks on demand. This would involve applications running in virtual machines on servers, and linking across virtual networks to virtualised storage resources. HP has been quietly vocal on such a unification product strategy going forward.
These unification or convergence moves were prompted by Cisco's entry into the server market, offering the potential of a unified server and networking product line. With EMC's VMware on board, this also offered VMware-controlled storage. This move by Cisco was possibly helped in its inception by HP steadily enhancing its ProCurve networking products business.
Other server system companies responded, with HP continuing to bulk up its ProCurve networking division and looking to develop its storage products. Dell recently bought Perot Data Systems to strengthen its services on offer and Oracle is buying Sun, and producing complete integrated app-to-servers-and-storage products such as its Exadata 2 machine.
Oracle would potentially be interested in Brocade because it could integrate it with the networking assets that are included inside Sun, to enable the building of a more complete and broad-ranging IT stack.
Brocade is a $1.5bn a year company in revenue terms and currently enjoys a market capitalisation of $3.2bn, with shared trading at $7.65. Recent results have disappointed Wall St. It sells its products through OEM arrangements with most server system suppliers and has prospered in part because it is an open supplier. Such arrangements would be placed at risk if Brocade were bought by a server systems supplier such as HP, Oracle, IBM or Dell.
Its motivation for selling itself could be that it sees the future for networking product sales to large data centres being as part of - an integrated part of - a complete server-to-networking-to-storage sale. It would be better off inside the tent of a major seller of such systems than as an independent and open networking products seller, looking to sell its products in competition to others selling complete server-storage-networking product stacks.
If Brocade is right, then the same thoughts must be being voiced around the board tables of similarly placed storage product suppliers.
The WSJ reported that neither Brocade, nor HP, nor Oracle, nor the investment bank supposedly involved - Frank Quattrone's Qatalyst Group - would comment. ®
Sponsored: Minds Mastering Machines - Call for papers now open