WriteRoom
Oust Apple's overly-arty Notes app
iPhone App Review Yes, the iPhone has its Notes app, but with its notepad-lookalike graphics and mock handwriting font - which you can't easily change - it was always more a showcase for the Apple graphic design team's talents than a tool you'd want to use.
It has one advantage, though: it's just about text. It's not concerned with presentation or formatting, tables of contents or making sure your boss doesn't realise you can't spell - it's just for jotting.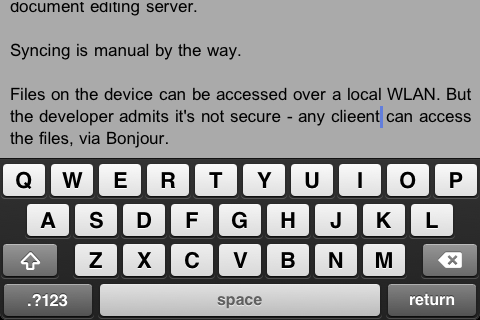 WriteRoom: simple text editing with no distracting UI
WriteRoom attempts to right Apple's note-writing wrongs by giving writers a more utilitarian user interface that allows you to focus entirely on what you're writing not what it's being written on, or how.
Tap a document's name to open it, or hit the + button to create a new file, and you get a plain page ready for writing. No lines, no double-ruled margin, no artful torn-out-page-stubs graphic. Use the iPhone's 'part two fingers' gesture and even what little UI there is vanishes to leave you with a literally blank page.
A tap brings up the keyboard. Rotate the phone to swap orientation - the keyboard works on both portrait and landscape - and type away.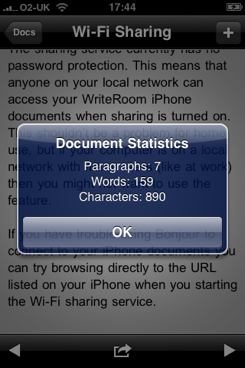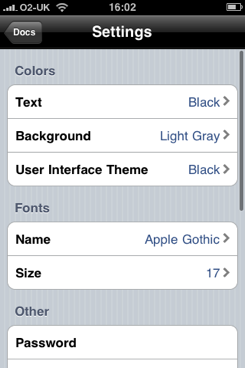 Concessions to word processor users: a word count and font selection
Two-thumb typing in landscape mode isn't actually all that bad, though the iPhone's touch keyboard is a limiting factor. Pinch your fingers on the screen to get back the other controls and you can call up a word count or pass the document to the Mail program.
That's not the only way you can pass on what you've written. WriteRoom has a built in file sync facility, but only with developer Hog Bay Software's own, lightweight web-based service. It looks like Mac OS 6, long time Apple owners will be surprised to see. It's based on open source Google technology so it could well be possible to build your own, private file sync and document editing server.
Files on the device can also be accessed over a local wireless network, but Hog Bay admits it's weak on security: files can be accessed by any machine on the network provided it can sniff out the IP address or have a Bonjour-compatible browser.
But, as with WriteRoom itself, simplicity is the name of the game here. You can change the font, but it'll be applied to all documents throughout.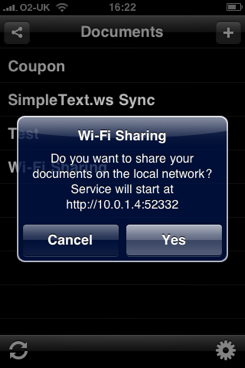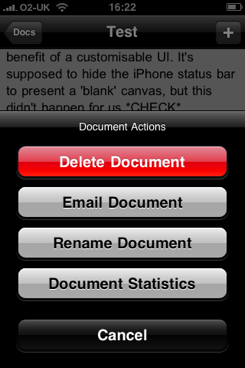 Access files over Wi-Fi, or email them
Folk who need the features a word processor provides will be disappointed. But if you just want a place to enter text - thoughts, plots for novels, iPhone app reviews even - when you're out and about, WriteRoom is a good place to start. Sync'd files can always be subsequently cut'n'pasted into a word processor and tarted up then.
Incidentally, WriteRoom is compatible with another app, TextExpander, from developer SmileOnMyMac, which substitutes full sentences from user-chosen abbreviations in a whole range of iPhone apps.
Verdict
As simple a text editor it gets without the fripperies Apple's own Notes, with added online document synchronisation and access over Wi-Fi. And it's cheap as chips too. ®
Compatible with iPhone OS 3.0
Tested on an iPhone 3GS
Sponsored: Minds Mastering Machines - Call for papers now open

WriteRoom
A fine, low-cost tool for jotting down everything from thoughts to that novel you always know you had in you.