Ex-GCHQ spy chief lands defence giant gig
Codebreaker-in-chief pitches up at Thales
Just over a year after retiring as Britain's most senior electronic spy, Sir David Pepper has taken a job advising the defence and security giant Thales UK.
He will sit on the firm's "advisory board" having retired as director of GCHQ in July 2008. Thales UK's CEO Alex Dorrian said Pepper will help the firm grow its national security and resilience businesses.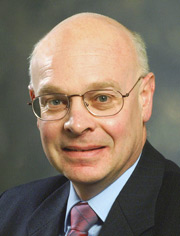 Sir David Pepper
Pepper said: "Thales UK is a very successful British company; many of its 8,500 people work on critical security systems for the UK government. It encompasses a fascinating array of technological and engineering capabilities, and I am delighted to be joining its advisory board."
His contacts are no doubt valuable to a contractor seeking access to the growing national security budget.
At GCHQ Pepper was responsible for spending hundreds of millions of pounds and was a driving force behind the agency's ongoing scramble to increase surveillance of the internet. He pushed the Interception Modernisation Programme, which will aim to gather details of every online communication.
Senior civil servants who move into the private sector within two years of leaving their government post must seek the approval of the Advisory Committee on Business Appointments (ABCA), an independent scrutiny body composed of, er, former senior civil servants and peers.
The Thales UK job is Pepper's second appointment since leaving the GCHQ "Doughnut" in Cheltenham. In October he became a non-executive director of Gloucestershire County Council, which was approved on condition he does not lobby ministers or civil servants for 12 months.
An ABCA spokeswoman said the same conditions apply to his Thales appointment.
The ABCA's goals are to "avoid the risk that an employer might gain an improper advantage by appointing a former official who holds information about its competitors, or about impending government policy" and "avoid any suspicion that an appointment might be a reward for past favours".
It's unknown is whether Thales UK is a GCHQ contractor or whether it was granted any business by Pepper. Of course, even the existence of the agency's technology contracts is completely secret, so it's likely we will never know. ®
Sponsored: Minds Mastering Machines - Call for papers now open