Amazon pumps sky-high Big Data cruncher
NetBeans IDE hugs Hadoop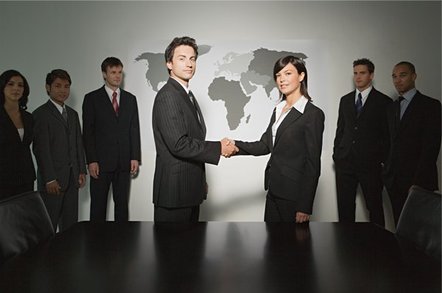 Hadoop World Amazon has juiced its Big-Data-crunching Elastic MapReduce service, announcing support for Hive, the SQL-like query engine for the open-source Hadoop platform that underpins the service.
Hadoop mimics the GFS and MapReduce platforms that drive Google's back-end infrastructure, and with Elastic MapReduce, Amazon sits the open source animal atop its sky-high compute resource services: EC2 (elastic compute cloud) and S3 (simple storage service).
In August, Amazon introduced support for Pig, a Yahoo!-developed programming language for Hadoop, and this morning at the Hadoop World developer conference in midtown Manhattan, the company announced its embrace of Hive, a higher-level language developed at Facebook.
Amazon's Peter Sirota said that EMR will support Hive version 0.4, and it will be integrated with the service's web console. "We're also introducing new features for Hive that make it a little bit easier to use in the cloud," he said. You can load partitions automatically from Amazon S3, and you can setup a data store that's used by several Hadoop clusters.
He also said that Hive performance had been optimized on the Amazon services. "We're optimizing data writes. So if you run inside the Amazon Elastic MapReduce, your jobs will run faster and more reliably."
Sirora then introduced a private beta release of an Elastic MapReduce incarnation based on the Hadoop distro from Cloudera, the star-studded startup that has commercialized the open-source platform in Red Hat-like fashion. In other words, Elastic MapReduce users can now turn to Cloudera for a support contract.
Separately, Cloudera offers a version of its distro that you can run on EC2 and S3 on your own. It has also introduced similar distros for VMware's imminent vCloud as well as so-called cloud services from Rackspace and SoftLayer.
Meanwhile, Amazon joined Karmasphere in announcing that Elastic MapReduce can now be used in tandem with the Karmasphere Studio For Hadoop, an integrated development environment based on the popular NetBeans IDE. With this free Hadoop Studio, you can prototype Hadoop jobs on the PC desktop, and once they're prototyped you can then deploy, debug, and monitor them on an internal Hadoop cluster or, yes, Amazon's Elastic MapReduce.
This morning, Cloudera released its own desktop tool for Hadoop, a GUI meant to run an number of applications for interacting with clusters. At the moment, it only runs with the Cloudera distro. ®
Sponsored: Minds Mastering Machines - Call for papers now open