Sagem DSI86HD
Freesat HD for the casual observer
However, the upscaling does definitely improve the quality of the standard SD image, making it noticeably sharper than the somewhat soft and airbrushed appearance of SD programmes that we normally see on our Samsung TV. Other handy features include parental control options that allow you to lock individual channels and even remove the channel name altogether from the main list of available channels.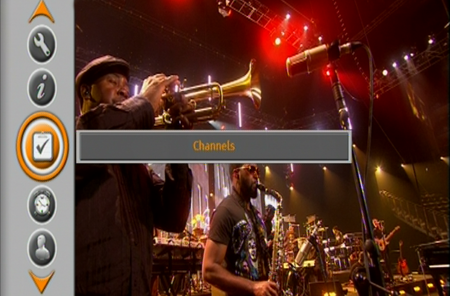 The on-screen menu does the job, but scheduling can be tricky
The DSI86HD uses the standard Freesat 7-day programme guide, and though there's no internal hard disk for recording programmes it does allow you to record onto a separate VCR or other type of recorder by using one of its Scart connectors. Unfortunately, the process for scheduling recordings this way is rather long-winded, and the receiver's lack of recording facilities remains its only real weakness.
Verdict
Sagem deserves credit for producing a mass-market Freesat receiver that is easy to use and which will appeal to less technically-minded users in the same way as the many low-cost Freeview receivers that have helped to make Freeview so popular in the last couple of years. The upscaling option also works well and will help people to get the best from their HD TV sets. Given this promising start, we look forward to seeing the company's forthcoming Freesat HD recorder with great interest. ®
More Freesat Gear Reviews...

Elgato
EyeTV Sat

Panasonic
DMR-BS850

Humax
Foxsat-HDR

Panasonic
DMR-XS350EB

Sagem DSI86HD
Well designed and easy to use but, unless you own a DVR already, the lack of recording features limit its appeal.