Intel 'Light Peak': not an Apple idea after all
Why hasn't Steve taken credit?
Intel's newly announced 'Light Peak' optical interconnect wasn't developed at Apple's instigation as has been claimed.
So says a mole cited by Cnet, and we're not at all surprised, for a number of reasons.
Intel has been working on various technologies relating to the integration of optical data streams into computer systems for some years.
We recall getting a briefing on so-called 'silicon photonics' - the production of CMOS chips capable of converting electronically transmitted data into laser light and then back again - back in 2006 at Intel Developer Forum.
Light Peak doesn't directly involve silicon photonics products, but it's clear the chip maker has been thinking about optical interconnects for longer than a casual chat between Steve Jobs and Paul Otellini might have prompted.
A year later, at the 2007 IDF, the USB 3.0 Promoter Group - the membership list includes Intel - were already talking about the possibility of incorporating optical technology into the bus standard. SuperSpeed is here - well, almost - and its entirely electric. It's not clear why optical never made it into the final cut, but the time it has taken to get optical ready suggests the minds behind SuperSpeed felt it more important to get the faster bus standard out into the market quickly than wait for what may now well form the basis for USB 4.0.
SuperSpeed has a theoretical maximum throughput of 4.8Gb/s - Light Peak will kick of at around 10Gb/s and has scope to be extended to 100Gb/s.
Certainly, Intel's recent Light Peak demos used a connector a lot like a USB A port and probably not so very different to this: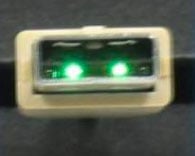 Optical USB 3 circa 2007
But more to the point, perhaps, would Apple really hand all this over to another company? It has always enjoyed a healthy stream of royalties - originally $1 a port - from the development of the Firewire - aka 1394 - bus and we can't see it passing up a similar opportunity to own intellectual property rights to a future optical interconnect. ®
Sponsored: Minds Mastering Machines - Call for papers now open