MS dual-screen tablet to arrive next year?
Mole reveals Courier launch details
The past week has been filled with speculation about Microsoft's dual-screen e-book reader-cum-tablet PC, and it has since emerged that the device could available sooner than you may have thought.
When images of Courier first appeared, moles described it as a "late prototype". This led many pundits to believe that it could be some time before Microsoft officially launches Courier.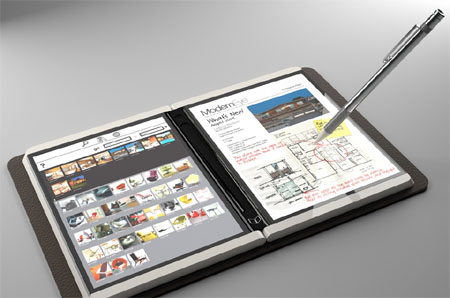 Microsoft's rumoured Courier: coming next year?
But that isn't the case, at least according to one of ZD Net's "connected tipsters", who has claimed that Courier is further along the development line than a pure research project.
The net result, according to the tipster, is that Courier will be launched next year.
We've no reason to believe or question the claim. However, the tipster also unearthed a couple of previously unknown Courier features which could help you make up your mind about the rumoured gadget's supposed arrival date.
Firstly, Courier will be based on Windows 7. No great surprise there since Microsoft's surface interactive table is based on a custom version of Vista.
Secondly, Courier will support cloud-based storage. This tallies with a previous report from Gizmodo, which claimed Courier data "can actually be published online".
Microsoft has yet to say anything official about Courier. ®
Sponsored: Minds Mastering Machines - Call for papers now open