PC tune-up software: does it really work?
Part One: Windows XP
Ccleaner, which is a free download, didn't make our laptop any faster, but then it didn't really slow it down either. It's far less comprehensive than the other tools, with no registry and hard drive defragmenter and a very basic start-up tool, where it's easy to disable something important because there are no descriptions.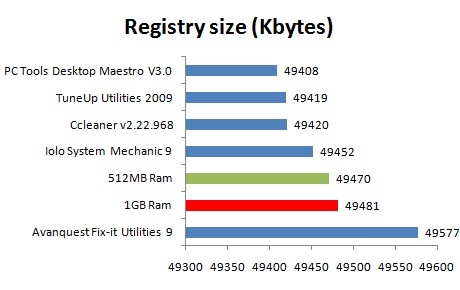 Promises, promises: the Registry size post upgrade
Ccleaner also doesn't give you the option to disable Windows services you may not be using, unlike the other utilities on test. But since the biggest improvement in start up times and Ram availability comes from disabling start-up items – and because it's free - then Ccleaner remains a great option for enthusiasts.
PC Tools' Desktop Maestro 3.0 costs £39.95 and didn't live up to its promises. The graphs show the results when we used Desktop Maestro's Recommended Services Optimizations setting, because when we used the Minimal Services setting - which we were asked to use by PC Tools for best performance - the boot-up time was consistently increased by over a minute. Using the Minimal Services option didn't make for a fair test either, because it changed the Windows display scheme to mimic a butt-ugly Windows 95 layout.
Desktop Maestro also loads an application that says it is automatically scanning the registry for changes. That increased the process count and, potentially - it's very difficult to measure - CPU usage. Finally, unlike the other commercial packages, Desktop Maestro doesn't have its own hard drive defragger - it links to the Windows one. Not that it matters, since we couldn't measure any improvement offered by third-party defraggers compared with the native Windows one.
TuneUp Utilities 2009, which costs £29.99, was the only application that improved our Office 2007 performance, albeit by a small amount. Its registry compacting tool claimed it would reduce the size of our registry to 41MB, although we have no evidence that it did so.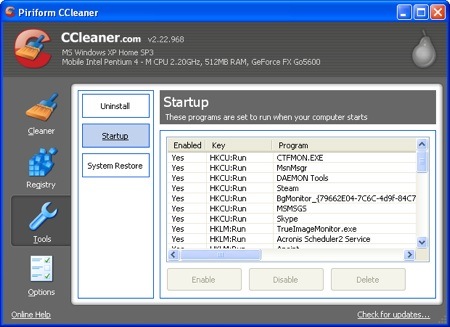 Ccleaner doesn't have many tools, but it is great for those wanting to tinker with start up services on the cheap
Its start-up manager is top class, with programs divided into unnecessary, no recommendation and necessary categories, so even novices can make some sense of what to switch off and what to leave on. Its Quick Optimization tool is polished with clear descriptions of what's happening, so we're happy to give TuneUp Utilities 2009 a tentative thumbs-up.