PC tune-up software: does it really work?
Part One: Windows XP
Conclusion
The short answer for which option is best, tune-up software or a Ram upgrade, is: the Ram. But that's an over-simplification because other computers will behave differently. If you've already upgraded, that conclusion won't help you. But many XP PCs and laptops were sold with 512MB or even 256MB of memory, so these really can benefit from a Ram upgrade. We weren't expecting the Ram upgrade to improve Windows start-up times, but it did.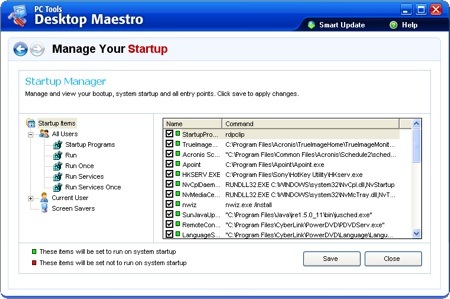 Desktop Maestro 3.0's overall package feels dated, but a new version is due in October
Click for full-size screenshot
Our testing produced very little evidence that registry fixers and third-party defragmenters do any good at all, although other users with serious computer problems may experience otherwise. There is definitely the risk of choosing the wrong option - which was our experience with Fix-it Utilities 9 and Desktop Maestro 3.0 - and then getting significantly worse performance.
All the utilities were, however, able to shave a few seconds off our start-times, but not by using their one-click tools. Instead, you have to explicitly disable services and applications to get the increase in performance. It's worth remembering that you can also run msconfig, from XP's Run box, to disable start up programs, although you get a barebones interface with no guidance.
If we had to pick a winner from the list of apps, we'd go for Iolo's System Mechanic 9. It produced the best results - where the apps actually made a difference - and has a decent UI. It also has a good range of features.
CCleaner deserves a special mention becuase, though it doesn't offer as many features and has its flaws, it is free, so it's the obvious one to try first.
We've also tested these software packages on a higher spec Vista PC, where we got some quite different results, but we'll tell you about in an upcoming article... ®
Verdict: Windows XP Apps

Iolo System Mechanic 9
Rating 70%
Price £30
More Info Iolo

CCleaner
Rating 65%
Price Free
More Info CCleaner

Tune-up Utilities 2009
Rating 60%
Price £30
More Info Tune-up

PC Tools Desktop Maestro 3
Rating 50%
Price £40
More Info PC Tools

Avanquest Fix-it Utilities 9
Rating 45%
Price £30
More Info Avanquest