PC tune-up software: does it really work?
Part One: Windows XP
Iolo's System Mechanic 9, which costs $49 (£29), caused us some real headaches in this respect, because its one-click solution disabled MSN and Snagit, which we re-enabled for a fair test. Another option in System Mechanic 9 is its EnergyBooster option. With this enabled, boot-up times were cut by a further seven seconds compared with the result in the graph. It achieved this by pointing out services we didn't use, including Fast User Switching. So, while you may use Fast User Switching, it may find something else you don't use and offer to turn that off instead.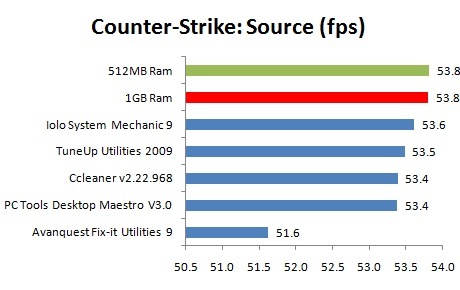 Disaster strikes for Fix-it Utilities, with a significant hit on performance
Longer bars are better
The most effective way of increasing performance with these software packages is disabling unused start-up applications, which gave us an 18-second improvement compared to the results we've presented in the graphs. You can remove many of these services manually, but these applications make it much easier, and Iolo's service-remove tool was the best of the bunch in this respect.
Avanquest's Fix-it Utilities 9, which costs £29.35, was the only application that changed the page file from Windows default of 764MB to 1024MB and it freed up an extra 17MB of memory. Both its start-up time and Office 2007 performances were bottom of the field and it really affected Counter-Strike: Source's frame rate badly.
Fix-it Utilities 9 offers different profiles for you to chose – Office, Gamer or Security (who wants to choose between security and anything else, eh?) – but there was no noticeable performance difference between them. When we went one step further and enabled the Menu Display Optimizer and Icon Cache Size Increase options, performance in Office 2007 and start-up times sank a further eight and 11 seconds, respectively, compared with the one-click optimisation results presented in the graphs.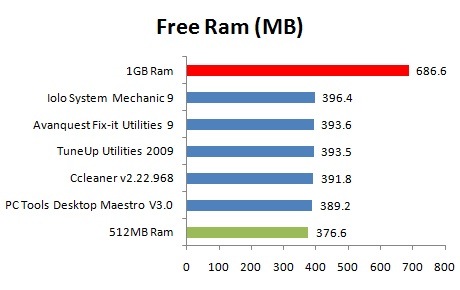 It would appear the applications do some good after all, at least in freeing up Ram
Fix-it Utilities 9 does have a very good start-up editor plus Virus and Spyware protection, a permanent file shredder and a very slick interface but, all in all, it appeared to slow down our laptop, not speed it up.
Sponsored: Minds Mastering Machines - Call for papers now open