PC tune-up software: does it really work?
Part One: Windows XP
To test Photoshop performance, we used the DriverHeaven's Photoshop Benchmark V3, which is a simple script that times a series of transformations on a high quality image. We recorded the first four parts of this benchmark and added them together for this result. Apart from the 1GB Ram laptop, the difference in results is insignificant, with the software doing nothing to accelerate performance.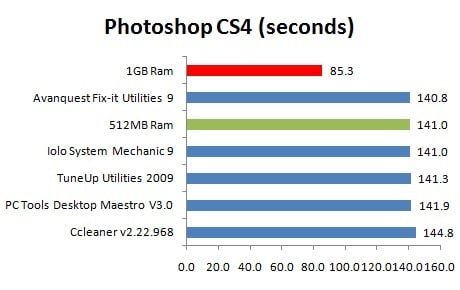 No surprises here. The Ram upgrade thrashes the rest in Photoshop
Shorter bars are better
When it first launched, the Half Life 2 engine was known for long load times, so we decided to record the time it took to load the HL2-based Counter-Strike:Source video stress test and then note the frame rate of the stress test. While there was quite a high margin of error in the CS:S start-up test - although there is a trend for the tune-up applications to slow down the load time - we recorded some easily reproduced numbers.
The big casualty here was Fix-it Utilities 9, which consistently dropped 2.2f/s compared with the standard laptop.
Once the Office, Counter-Strike:Source and Photoshop benchmarks had run we took note of how much free physical memory was left available before restarting the laptop and repeating the benchmarks. All the tune-up applications made more memory available than the standard system so, although our benchmarks don't always show improvements with the tune-up apps, the extra Ram shows a genuine underlying advantage - if only in theory - of having these applications on board.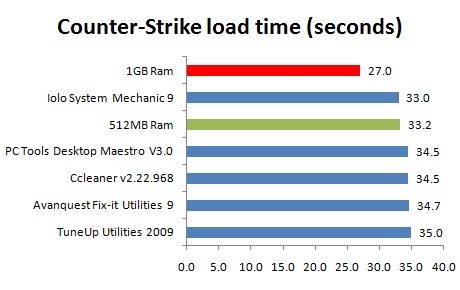 Half Life 2 took a while to load on machines of its launch year
Shorter bars are better
Many of the tune-up applications said they were compacting the registry by ten per cent or more when we used them, but this must have been an exercise in defragmentation because the registries stayed a very similar size overall. We recorded these sizes with Microsoft's free Dureg application.
So, where do all these results leave us? The biggest game-changer in system performance was how many services and applications were enabled at start-up.
Sponsored: Minds Mastering Machines - Call for papers now open