Seagate reveals 1TB FreeAgent
But it will be too fat to fit inside your laptop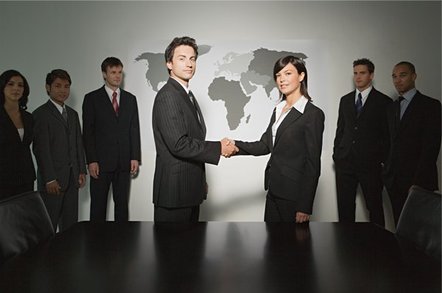 Confirming a channel leak, Seagate has announced a 1TB FreeAgent Go, but said the drive will not be used in its notebook product line.
Western Digital announced its 1TB Scorpio Blue 2.5-inch drive recently. Up until now the portable FreeAgent Go products have been limited to 500GB capacity, with their 2-platter, 2.5-inch drives. There will be three new models with 750GB, 880GB, and 1TB capacity points, using three platters. This is a "fat drive", according to Jon Van Bronkhorst, Seagate consumer products' executive director, as it has a 15mm depth, with Seagate using an existing enterprise chassis.
The platters spin at 5400rpm, with no news about any forthcoming 7,200rpm speed. Bronkhorst said the 3-platter drive: "will be sold only to the external drive market; never internal." It is too deep for that.
But he did reveal that "we're working on a 7mm (depth), single platter drive."
Bronkhorst didn't elaborate on the markets for such an ultra-thin 2.5-inch drive, but he is in Seagate's consumer division and it would suit embedded applications that have a restricted depth available. However, mobile internet devices such as the rumoured tablets and existing ultra-thin notebooks might also enjoy having a thin hard disk drive today, even if it could deliver just 330GB capacity.
The next 2.5-inch platter capacity point will almost certainly be 500GB. Bronkhorst says Seagate could stretch the current 320-333GB/platter areal density, but not that far, and it will be better to wait for the next natural platter density level. We might think about products using 500GB 2.5-inch platters appearing in 2011, possibly even the back end of 2010. That would give us 1TB notebook drives with a 9.5mm depth.
Verbatim has announced a 500GB InSight portable drive with an E Ink-type Always On display. Users can thus label the drive to indicate its contents; music, videos or photos for example. Asked about similar FreeAgent labelling Bronkhorst carefully said: "No FreeAgent product has been announced with an E Ink display." At least, it hasn't yet.
Bronkhorst didn't say when the bigger FreeAgents would be available or mention pricing, but did talk about the coming holiday season, so that's probably another hint. ®
Sponsored: Minds Mastering Machines - Call for papers now open