LG GD910 Watch Phone
Worth the wrist?
The touchscreen display resolution is a mere 128x160 pixels. It is capacitive and very responsive to finger sweeping - left and right, up and down, flicks and taps. Vertical sweeps tend to take you to different viewing options such as the clock, or let you move through lists or menus.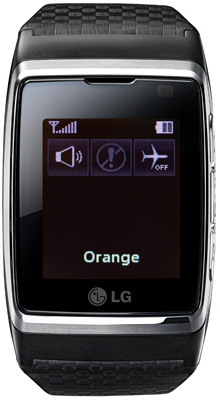 Small, but responsive touchscreen
Fortunately, animated arrows typically appear and flash to let you know which directional sweeps are available on any particular screen but, when they aren't present, it is pretty intuitive to know what to do next. Take a suck-it-and-see approach and you can use the middle-right side button's back feature to resolve erroneous selections.
When the screen powers down to standby mode it displays the time and date against a non-backlit background. Just press any right side button once to get the backlight going, thus activating the screen and revealing whatever it was displaying previously. In most lighting conditions, a simple glance to check the time, is quite difficult to view. Typically, you need to make that first button press to get the backlight going.
The GD910 offers both voice and video calls – the latter from its wee camera just above the screen. It's a real sci-fi moment, but it may well make you feel like a complete berk as you chat away to your watch. And, because calls are delivered through a microphone, both sides of a conversation can be heard. Fellow train travellers are going to love that. Better to use the Bluetooth headset and annoy them 50 per cent less.
Tapping out text messages with a finger on the handset-style keypad is a little awkward but there are multitouch or T9 options. The latter is quite well implemented, given the relatively small screen area that's available. You use a drop down menu to pick matches to the letters you've hit, or tap the word you want, if showing. It's never going to be as easy to use as a 3in-plus touchscreen, but it isn't bad.

Press any side button to arouse from standby mode
Voice command operation is accessed by pressing the centre button on the right side when viewing the clock. The choices include voice dial and getting an update on new messages and also, rather oddly, to be told the time. Why not just look at the clock?