3D tech-agnostic set-top box designed
Displays 3D on any type of 3D TV, claim manufacturers
A standard way of displaying 3D content on a TV screen has yet to emerge, with manufacturers currently developing 3D-capable sets using a handful of different technologies.

The Sagem/Sensio STB works with any type of 3D TV, the makers claim
For broadcasters, such as Sky, this creates a problem. Transmitting one programme in a handful of different 3D formats just to ensure that it displays correctly according to all available 3D TV technologies will be very expensive.
Broadcasters will - once 3D TV services get going - probably therefore opt to transmit according to the most popular 3D display technology, leaving it up to consumers to decide which type of 3D TV technology is the safest option. Not an easy decision to make considering 3D TVs currently start at around £5000 ($8175/€5566).
Thankfully, two firms – Sagem and "avant-garde stereoscopic technology" developer Sensio, have joined forces to create a set-top box (STB) that they claim can handle all the major methods of 3D TV display.
A Sagem spokesperson told Register Hardware that four major methods currently exist: anaglyph, active shutter, micro-polarization and auto-stereoscopic.
Anaglyph has been around since about the 1850s and requires you to wear those red and blue glasses, which produce a depth effect.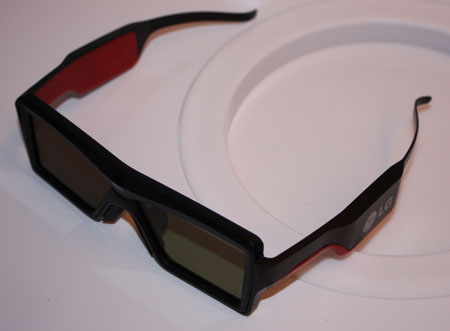 LG's active shutter specs
Active shutter glasses create the illusion of a 3D image by alternately darkening over each eye in synchronisation with the display's refresh rate. LG has already produced active shutter-based 3D TVs.
Micro-polarization can be used to create a 3D image by independently polarising pixels for your left and right-hand eyes – the Sagem spokesman added.
All three require viewers to wear glasses in order to see a 3D image, but the fourth technique – auto-stereoscopic, effectively sees 3D specs built into the display.
Sponsored: Minds Mastering Machines - Call for papers now open