Packard Bell dot m/a netbook
A realistic rival for Intel's Atom
The entry-level dot m/a comes with a 2200mAh battery which, while small and light, stores no more energy than the standard battery in last year's original 8.9in Acer Aspire One so you can probably guess the next bit: the battery performance is abysmal.
Running a standard-definition H.264 video at full screen using VLC with the Wi-Fi radio on, and the screen brightness and volume turned up to the max, we recorded 68 minutes of runtime. That's not a typo. Sixty-eight minutes. One hour and eight minutes. 4080 seconds.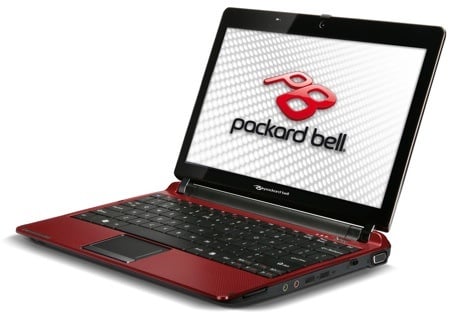 Looks great - but shame about the battery life...
Switch the power option to Save, cross your fingers and think low-power thoughts, and you should be able to eke out around 100 minutes of life. The problem is, in Power Save mode the system has trouble even scrolling smoothly, so it's not something we'd recommend you use unless you're only planning on some light word processing with a dimmed screen.
The basic dot m/a's limp battery renders it nearly useless for day-to-day use. An optional six-cell 5200mAh battery is available from Packard Bell, but it will set you back £120. Packard Bell isn't releasing recommended retail prices for its dot series, but at the time of writing one well known British supermarket has the machine we tested on sale for £300 and the 320GB version for £380 with a 4400mAh six-cell battery.
Assuming that 4400mAh battery provides twice the life of the unit in our test machine, you are still only looking at between three and three-and-a-half hours of serious use on a full charge which is still far from the six-cell netbook class average.
Verdict
In its basic form, the dot m/a is let down badly by its farcically poor battery life but if you can lay hands on one with the six-cell battery for a reasonable price then you will have a very nice machine and one that represents decent value for money. A 10.1in screen Samsung netbook like the NC10 or N110 will set you back between £300 and £350, and neither has the hi-res screen or 2GB of memory of the m/a. ®
More Netbook Reviews...

Dell
Latitude 2100

Samsung
N110

Toshiba
NB200

Acer
Aspire One D250
Sponsored: Minds Mastering Machines - Call for papers now open

Packard Bell dot m/a netbook
A fine machine with 2GB of memory, a high-res screen, a fast CPU and Vista Premium, all let down by the hopeless, standard-fit, three-cell battery.