Packard Bell dot m/a netbook
A realistic rival for Intel's Atom
In everyday use, the m/a feels faster than the majority of Atom netbooks we have tested, be they running Linux or Windows XP. In fact, it feels very much the same as the 2.1GHz Core 2 Duo machine this review is being written on, which makes it one of the few netbooks we reckon you could live with as your only computer.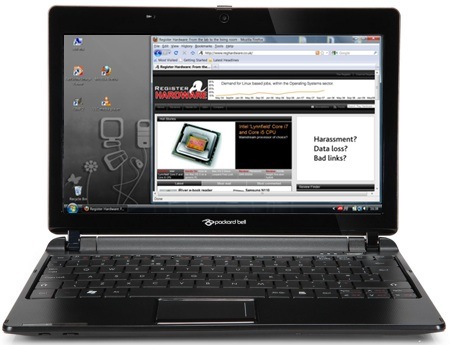 The m/a's display may be glossy by its 1366 x 768 resolution beats most netbook screens
By way of illustration, while BBC's iPlayer works on Atom netbooks it doesn't do so quite as fluidly as it does on full-size machines with more memory and faster processors. On the dot m/a, though, everything was silky smooth with no stalls.
That said, HD video playback proved somewhat worse than we expected. Using VLC, the m/a proved incapable of playing 1080p AVI and H.264 test files, even in a window. After installing a trial copy of the CoreAVC codec we managed to play the same H.264 video at full screen using Windows Media Player 11, but it was touch and go and certainly not running as happily as the same file ran on an N280-powered, 1204 x 600 machine using the same codec.
The same was true when we used the dot m/a to view the Apple-hosted trailer for Avatar. At 720 x 480, the QuickTime file played at full screen with no problem at all. At 720p it just showed the first signs of struggle with the occasional stall. At 1080p it all went pear shaped.
Running the 3DMark06 benchmark produced a figure of 121 which is above par for a netbook but still means that you won't be doing any serious gaming on your m/a. Turning to the PCMark05 results, the dot m/a returned a rather poor memory score, an average HDD score and a better-than-average CPU rating.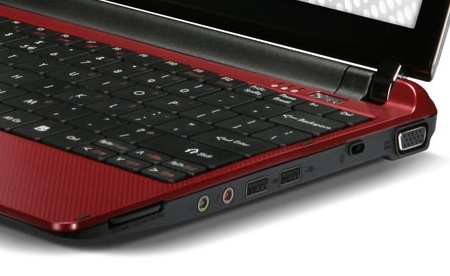 The m/a has the usual array of netbook ports
While HD video playback may have bee a bit dodgy no apologies have to be made for the sound. Not only are the stereo speakers rather better than the norm but the Dolby 5.1 emulator generates a pleasant pseudo-surround sound listening experience if you're using headphones. Usefully for anyone suffering from auditory hyperesthesia, the m/a is a very quiet runner, the fan spinning up to speed with barely a whisper.
Sponsored: Minds Mastering Machines - Call for papers now open