Noel Edmonds brings Cosmic Order to the iPhone
You too could be presenting Deal or No Deal
iPhone users searching for meaning and direction in their sad and unfulfilled lives can rest easy, thanks to Noel Edmonds and his Cosmic Ordering application.
Cosmic Ordering is the latest name for deciding what you want and then trying to achieve it, this time thanks to the awesome power of the cosmos as channelled through one's iPhone - there really is nothing the Apple handset can't do: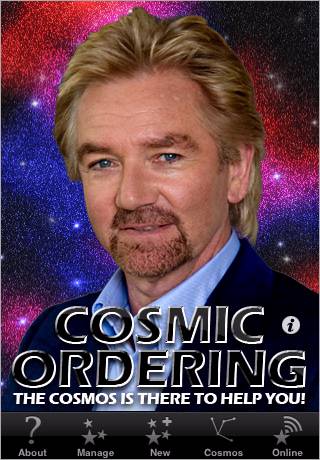 Can we forgive the Cosmos for Deal or No Deal?
You could, of course, write down your aims and objectives on small pieces of paper - as recommended by generations of self-help books and those selling multi-level marketing schemes. But that wouldn't run an industry of books, courses and now an iPhone application, which keeps track of your aims with a "swooshy launch motif" particularly appreciated by one reviewer.
Noel reckons it was Cosmic Ordering that got him the gig presenting Deal or No Deal, which has got to count against it. Even if Cosmic Ordering could improve our lives beyond all measure, we'd happily give it up it meant no more randomly-opened red boxes, and no more Noel Edmonds - for that we'd even give up our iPhones. ®
Sponsored: RAID: End of an era?