Sapphire Radeon HD 4890 Vapor-X 1GB
Very fast, very quiet
On the downside there wasn't much in the way of air circulation as the CPU and graphics fans were barely turning so the innards of the system got rather hot. However, it was all within limits and perfectly acceptable.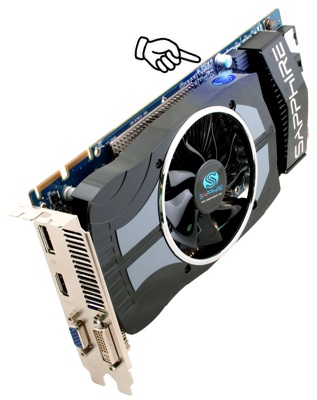 The worst thing we can say about this card is that it has a stupid blue LED built in
You'll be glad to hear that there was an aspect of the HD 4890 Vapor-X that caused us some mild upset and that was the blue LED inside the Sapphire logo on the top edge of the card. It's unnecessary and a bit tacky. Trivial though it is, it's really the only criticism that we can make about this graphics card.
Sapphire charges a modest premium of less than £20 for the Vapor-X cooler. We think it's money well spent, but there is a question about the wisdom of buying a DirectX 10.1 graphics card when DirectX 11 and Windows 7 are imminent.
AMD will launch its DX11 HD 5870 in a few weeks' time but right now its performance and price are unknown. Added to that, we are confident that it will take a good few months before we see the first DirectX 11 games, so if you're in the market for a top-notch gaming graphics card to play straight away, the HD 4890 Vapor-X is worth some serious consideration.
Verdict
We are deeply impressed by the Sapphire Vapor-X cooling system as it combines silent running with top gaming power and a fair price. ®
More Graphics Card Reviews...

AMD ATI Radeon
HD 4770

Zotac GeForce
GTX 275 AMP!

Sapphire Vapor-X
HD 4850

AMD ATI Radeon
HD 4890
Sponsored: Minds Mastering Machines - Call for papers now open

Sapphire Radeon HD 4890 Vapor-X 1GB
The Vapor-X cooler quietens the fast Radeon HD 4890 right down.