Microsoft offers online tools for Swine Flu infected kids
Perfect captive (quarantined) audience
Microsoft is leveraging this year's most fashionable pandemic to pitch its online storage and document sharing service for Office.
Swine Flu is a major hit with kids these days, and alas, infected tots must be kept away from the classroom. That's why the software giant today launched the website microsoft.com/education/h1n1 encouraging teachers to use Office Live Workspace to hand out work and assignments to children suffering terribly at home from piggy influenza.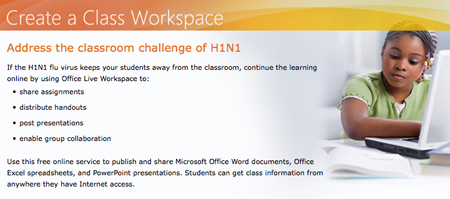 Nothing makes a kid feel better than a PowerPoint presentation
Microsoft's Office Live Workspace is a free web-hosted service (currently in beta) available in many countries that lets users publish and share Word documents, Excel spreadsheets, and PowerPoint presentations.
The company said the service will allow educators to easily create an online class workspace, especially amidst a massive outbreak. Office Live Workspace allows viewing of documents and limited editing directly though the browser without the need for desktop Microsoft Office Software. An account comes with 5GB storage — enough for plenty of essays on how the class spent their time in quarantine.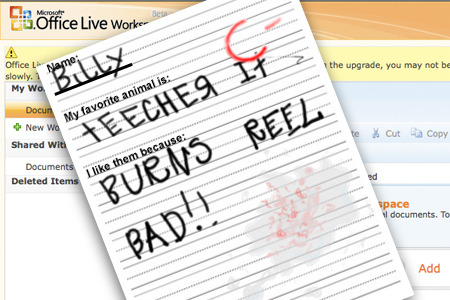 Penmanship still counts, kid.
"The H1N1 pandemic highlights the need for institutions to think more holistically about blended learning environments…that these online and distance learning solutions are valuable not only when you have to respond to classroom outages or school closures, but also creates an opportunity to connect and share information between a student and teacher beyond the classroom all the time," wrote Anthony Salcito, veep of Worldwide Education at Microsoft in a blog post.
Salcito adds that "school leaders can quickly demonstrate their leadership" by using H1N1 to "increasingly drive the transformation of learning in and out of the classroom." He notes that Microsoft also offers plenty more robust distance learning solutions commercially. ®
Sponsored: Minds Mastering Machines - Call for papers now open