Motorola's latest enterprise handset screams as it falls
And will tell on you afterwards
Motorola's latest enterprise-ready mobile computer is really a mobile phone, but don't tell the handset division, as they're Android mad over there.
The MC9500 is a Windows Mobile-based device, but one with interchangeable keypads, a user-replaceable radio module and a battery monitor embedded into the battery. It also comes with a price tag knocking on $3,000, but volume discounts will apply.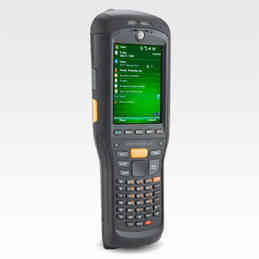 You can make phone calls on it too
And volume usage is what's expected - the handset comes with an integral bar code reader - 2D by default, but with an optional 3D scanner. The demonstration video shows one being dropped from the tail lift of a truck, showing the kind of place where Motorola expects this particular handset to find its home.
Enterprises are much more conservative than consumers, so features like a three megapixel camera and Windows Mobile 6.1 are pretty cutting edge. The MC9500 even has a 3G radio option - something its predecessor (the MC9000) lacked. It also has an infra-red port, something taken out as redundant from the MC9000 but returned by popular request. Apparently utilities have been busy fitting IrDA outputs into their meters and need a device that can read them.
Like all popular handsets, the MC9500 boasts an accelerometer, but it's the first we've seen that screams when in free fall. Apparently it's a safety feature, though it logs such drops for reporting back to management too. Sadly, they're going to have to take the scream out before putting in to the hands of the end users, as it's way too much fun and results in the handset getting dropped frequently.
But the model is designed to take such drops in its stride, along with 30 minutes submersion in water and the usual rugged-type things that industrial handsets have to endure. It's also surprisingly comfortable to catch, thanks to careful counterweighting.
A remarkable design to come out of Motorola, but then the Enterprise Mobility Solutions department is keen to show how it lies at the opposite end of the company from the handset division and its headlong dash towards Android. After all, the Enterprise division of Motorola makes money, which it seems isn't actually against company policy at all. ®
Sponsored: RAID: End of an era?