HP busts out fall PC lineup
Economic meltdown be damned
The Pavilion DM3 is a kicker to the AMD Neo notebook that HP announced in June. Spec sheets for the Pavilion DM3 were not available at press time, but the machine is just a little under one-inch thick and weighs in at 4.2 pounds using the optimistic gravity fields that all laptop makers seem to deploy when they calculate the acceleration of these laptops in said field.
The DM3 has an all-aluminum case, a 13.3-inch screen, and can be equipped with either dual-core Neo Turion processors from Advanced Micro Devices or dual-core, ultra low-voltage Core 2 Duo processors from Intel. (Exact processor models were not available at press time.) Depending on the configuration, it comes with embedded graphics or optional ATI or Nvidia discrete graphics cards. It has the standard Webcam and microphone and external DVD drive.
The Pavilion DM3 has a starting price of $540 using the AMD Neo processor and costs $649 in a base configuration using the Intel Core 2 Duo. It will also ship in conjunction with the Windows 7 launch on October 22.
Netbooks are hot among some laptop users these days, and HP wants you to accessorize with a new HP Mini 110 that sports some 3D images on the casing that are designed by Dutch artist Tord Boontje; this is a follow-on to a Mini 110 that HP is peddling with some peony prints on the case done by Vivienne Tam for $699.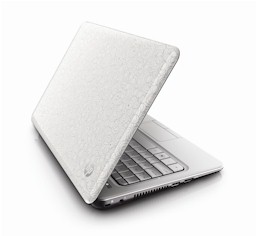 The HP Mini 311, with Tord scribbles
Not everyone has that kind of cash for what amounts to a digital purse, so the Boontje version, which comes in a more staid white instead of the flashy red, costs $399. That's the same price that HP is charging for a revved Mini 311, which will sport a wider 11.6-inch screen (with HD resolution), an Intel Atom processor and nVidia Ion graphics. The Mini 311 will only support Windows 7, and has its own optional, external DVD drive.
That brings us to desktops, and HP has three new ones, plus a media server to link everything together in the home or small office.
Yes, people do still buy desktop PCs, particularly businesses, and for a simple reason: if you try to carry a desktop PC out of a facility, people know you are stealing, and if you carry out a laptop, they think you are just trying to find a quiet place to work or are off to an important meeting.
HP's business customers are getting two new desktop PCs, which still bear the Compaq brand name. The Compaq 6000 Pro comes in two different cases a micro tower or a small form factor desktop that you can stack the monitor on top. It uses a motherboard based on Intel's Q43 Express chipset and supports a wide variety of Celeron, Pentium, Core 2 Duo, and Core 2 Quad processors. The system has four memory slots, and uses DDR3 main memory for a maximum capacity of 16 GB; it sports Intel's GMA 4500 graphics.
The motherboard has four peripheral slots (one PCI, one PCI-Express x16, and two PCI-Express x1), and depending on the chassis, it has room for one or two SATA disks or SSDs. HP is recommending that customers plunk one SSD in the first bay and load it with the OS and then use SATA for file storage. The machines can also be equipped with the Pocket Media Drive, a SATA drive encased in an anodized aluminum case that slips into one of the bays; these come in 250 GB capacities today and will be available at 320 GB beginning in November.
The Compaq 6005 Pro is an AMD machine, and it is based on a motherboard that uses AMD's 785G chipset and uses Sempron, Athlon II, or Phenom II processors, which come in single-, dual-, or quad-core variants and a pretty wide clock speed range. The basic feeds and speeds of the motherboards in terms of memory and storage capacity are identical, as are the microtower and desktop case options and the number and type of peripheral slots. This box has ATI Radeon HD2400 graphics.
Both the Compaq 6000 and 6005 Pro desktop machines are sold with 17-inch and 24-inch flat LCD screens (which won't be available until October 1), and they can run Windows Vista, Windows 7, and Windows XP through a downgrade that will be available through April 2010. The machines can also be configured with Novell's SLED 10 or FreeDOS. The Compaq 6000 Pro has a starting price of $605, while the 6005 Pro has an entry price of $563.
That brings us to the MS214 All-in-One PC, which crams a small PC box with an AMD Athlon X2 3250e dual-core processor running at 1.5 GHz onto the back of 18.5-inch monitor. The monitor has a slimline DVD drive embedded in it, and the PC has room for 2GB of DDR2 main memory in two memory slots and one 320 GB SATA drive. The PC box has all of the usual ports and such that you expect from a PC, as well as a keyboard and a mouse. Pricing starts at $599, and this is the kind of thing that HP expects you to plunk in your kitchen.
Finally, HP is upgrading its MediaSmart servers, which run Microsoft's Windows Home Server operating system variant and which are designed to be a warehouse for files for both Windows and Mac OS PCs in the home environment. The MediaSmart servers have room for four hot-plug SATA drives, and come with either a 1TB (that's the EX490) or 1.5TB (the EX495) drive in the first slot. You add more disk drives as you need capacity, and you can even daisy chain the devices using eSATA ports if you want to keep streaming content from or archiving data to the same MediaSmart server. The updated MediaSmart server has a new media collector program that can scan all of the PCs linked to it and gather up and archive all of these files to make them a shared resource.
HP has chopped the prices on the MediaSmart servers with this launch as well as boosting the capacity. The EX490 costs $549 with one disk and the EX495 costs $699 with one disk. ®
Sponsored: Minds Mastering Machines - Call for papers now open