NZ scientists identify giant, man-eating eagle
Legendary Te Hokioi really existed
Scientists appear to have confimed that a legendary man-eating flying beast which terrorised New Zealand's Maori actually existed, the Independent reports.
Maori lore tells of the Te Hokioi - a "huge black-and-white predator with a red crest and yellow-green tinged wingtips" - and named after its cry, as locals explained to early NZ governor Sir George Gray.
Maori oral tradition maintains that a Te Hokioi once challenged a hawk to a race to the heavens, a contest which ended with the hawk defeated by clouds and wind, while the Te Hokioi disappeared into the stratosphere.
Researchers now believe the Te Hokioi was indeed a formidable animal, none other than Haast's eagle (Harpagornis moorei), the remains of which were first discovered in the 1870s by Sir Julius von Haast.
Intitial studies of the animal's skull indicated that the 18kg, three metre wingspan bird was a vulture-style scavenger, "because its bill was similar to a vulture's with hoods over its nostrils to stop flesh blocking its air passages as it rooted around inside carcasses".
However, teams from Canterbury Museum in Christchurch and the University of New South Wales in Australia subjected the Te Hokioi's skeleton to re-examination using CAT scans and other advanced techniques to reveal it "had a strong enough pelvis to support a killing blow as it dived at speeds of up to 80km/h".
This structural strength, coupled to talons the size of a tiger's claws, mean the Te Hokioi was more than capable of striking fear into the Maori.
Paul Scofield, the curator of vertebrate zoology at the Canterbury Museum, explained: "It was certainly capable of swooping down and taking a child. They had the ability to not only strike with their talons but to close the talons and put them through quite solid objects such as a pelvis. It was designed as a killing machine."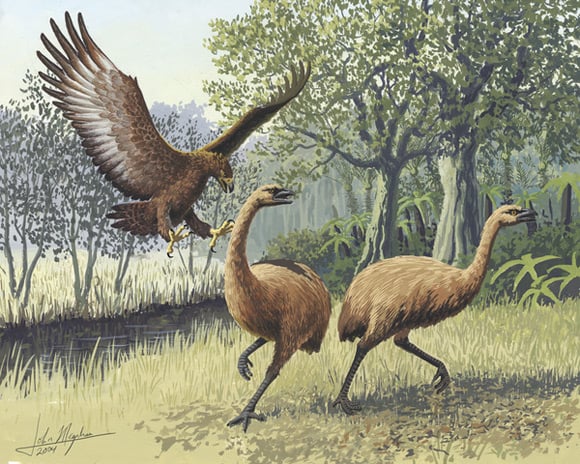 The Te Hokioi's most likely prey, though, was the flightless moa (see pic above, courtesy of PLoS Biology). Scofield explained: "In some fossil sites, moa bones have been found with signs of eagle predation."
Ultimately, it was probably the Te Hokioi's diet which proved its downfall. There were probably no more than 1,000 breeding pairs at any one time, and its decline was precipitated by the arrival of man in NZ, 1,000 years ago.
Humans hunted the moa into extinction, and the Te Hokioi disappeared from the skies 500 years ago.
The researchers' finding are reported in The Journal of Vertebrate Paleontology. ®
Bootnote
PLoS Biology has more background on the evolution of the Haast's eagle here.
Sponsored: Minds Mastering Machines - Call for papers now open