Acer Aspire 5935 15.6in Blu-ray notebook
A lot of laptop for your dosh?
With the Nvidia graphics chip turned on stormed through our benchmarks, racking up an overall PCMark05 score of 6322. Dropping down to the Intel graphics chip saw the overall result drop to 5191. The CPU, memory and HDD sub-scores were largely similar - which is what you'd expect - but it achieved 7318 in the graphics test when using the Nvidia chip but only 2486 when the Intel graphics were doing the heavy lifting.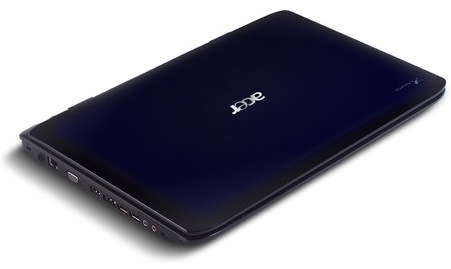 Not bad battery life for a 15-incher
Switching over to 3DMark06, with the Nvidia graphics in control it came home with a score of 5613, dropping to 1136 when shifting down to the Intel chip. The 5935 played Blu-ray titles in either graphics mode quite happily, so you don't need to step to the Nvidia chip just to watch a movie.
Using our standard intensive battery test, which involves running PCMark05 on loop until the battery gives up, the 5935 managed to keep going for 140 minutes with the Nvidia GPU enabled. Switching over to the Intel graphics added over half an hour extra runtime - 175 minutes in total. Given that this is a pretty extreme test, you should be able to achieve something approaching double these times with moderate use, which means enabling the Intel graphics if you're just doing simple application work could give you an extra hour of battery life.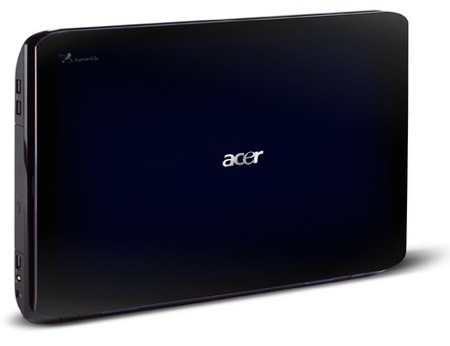 Case design inspired by a netbook?
You can manually control which graphics chip is in use using the utility in the system tray, but there's also a dedicated power savings button that enables preset power settings and changes the theme to Vista Basic. However, we were unable to get PCMark05 to run successfully with this mode enabled to test the battery life as on-screen pop-ups interfered with the benchmark software's operation.
Verdict
The Aspire 593's hybrid graphics means you're not wasting battery life when you don't need accelerated graphics, and the laptop's overall performance was impressive. However, it's not cheap: £1100 is a lot to pay for a 15in laptop these days, even one with a Blu-ray drive. ®
More Notebook Reviews...

Toshiba
Satellite A350-12J

Samsung R522

Dell Studio 15

Acer
Timeline 4810T
Sponsored: Minds Mastering Machines - Call for papers now open

Acer Aspire 5935 15.6in Blu-ray notebook
Hybrid graphics gives you the best of both worlds, making the Acer Aspire 5935 ideal for both work and play. But it doesn't come cheap.