Acer Aspire 5935 15.6in Blu-ray notebook
A lot of laptop for your dosh?
Review The Acer Aspire 5935 is aimed at those folk who don't just want a laptop that's all work and no play. In addition to packing enough grunt to chew through productivity applications, it's also equipped to keep you happily entertained when you've finished working for the day.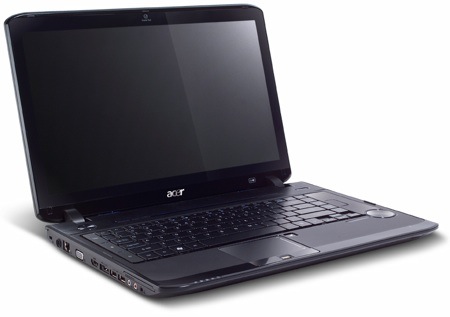 Acer's Aspire 5935: one 720p screen, two GPUs
The inclusion of Nvidia's Hybid SLI technology gives you the best of both worlds when it comes to graphics. If you're just filling out cells in a spreadsheet, you can drop down to the integrated Intel graphics and save power. Once you've filed your final report for the day, you can engage the Nvidia GeForce GT 130M chip instead and get down to some gaming. If you'd rather go for a less interactive form of entertainment, you can kick back and watch an HD movie on the 5935's Blu-ray drive or pick up digital telly thanks to the built in DVB-T receiver.
The 15.6in screen stretches to a 720p friendly resolution of 1366 x 768. If you want to get the full benefit of Blu-ray's 1080p maximum, you'll need to hook it up to a big screen TV using the HDMI port on the side. The screen's glossy finish ensures vivid colours, but also increases the reflectivity so you're more likely to be distracted by things behind you. It's certainly not the worst shiny screen we've seen, but it still picks up reflections of bright lights and daylight streaming through windows.
The case is fairly basic, decked out in black plastic, measuring 382 x 279 x 38mm and weighing in at 3kg. An array of bright blue status lights sits along the front edge, although it's far enough away to be out of your field of view when typing. The bright blue illuminated circle and line power indicator above the keyboard, however, can prove distracting, as can the backlit Acer logo beneath the screen.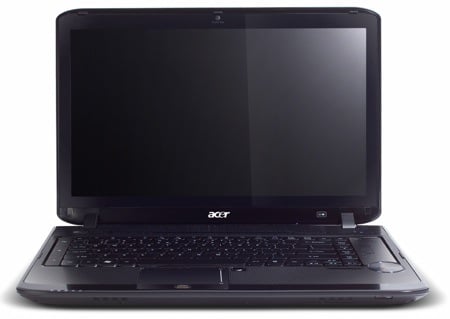 The display has a 16:9 widescreen TV aspect ratio
The 5935 is available in a number of different configurations, so you should be able to find one that suits your budget. The review model was equipped with a 2.66GHz Intel Core 2 Duo T9550 processor, but according to Acer it's more likely to ship with a 2.4GHz Core 2 Duo P8600 in the UK, which is slightly less powerful. The P8600 only has a 3MB cache, compared to 6MB on the T9550, knocking back performance a little further.
COMMENTS
no comparrison to an Apple 15"?
Often you guys thrown the MacBook Pro 15" in these specs lists as a benchmark comparrision. How can you produce an article about a graphics machine and not include an Equiv Mac at the same time?
Yea, it's a few hundred more, and doesn't yet have a BR player, but I'd still like to see how it stacks up in performance and battery life.
Am I the only one...
who read the title as "593515.6in Blu-ray notebook"? Laptops for Titans...
And when's the....
....M17x review coming?