Microsoft Office for the iPhone (without the Microsoft)
Why wait for Redmond?
Quickword
Like it's spreadsheet companion Quicksheet, Quickword isn't a replacement for Microsoft's ubiquitous word processor, but rather a way to view .doc and .docx files, make quick edits to them, and send them on their way.
Microsoft Word, as anyone who has used it knows, it chock full of formatting capabilities - more, if we're honest, than most of us will ever need. Quickword strips those options down to the basics.
To check how well Quickword rendered .doc and .docx files, we created a test file in Microsoft Word with a number of relatively straightforward formatting tweaks, saved it in .doc and .docx formats, transferred both files to our iPhone, and opened them in Quickword - one at a time, since Quickword can't have multiple documents open simultaneously.
Here's our test file: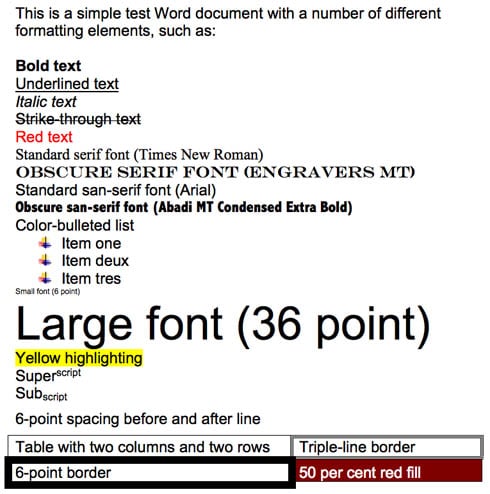 You may not think Abadi MT Condensed Extra Bold is obscure, but Quickword does
And here's how Quickword displayed the .doc version:
Quickword has a relaxed attitude towards highly formatted .doc files
Notice that the opening text has shrunk a bit, a few of the formatting niceties have disappeared, the colored bullets have changed to stock dots - although the original's colored bullet inexplicably reappears at the end of the document - and the "obscure" fonts are missing.
The font substitutions are easily explained: both Quickword and Quicksheet ship with only seven basic fonts, and there's no way to add more. The Quickoffice spokesperson told us that the company is considering adding more fonts in future versions. May we suggest iPhone OS 3.x's new in-app purchases as a way to add more? There's nothing quite like an enhanced revenue stream, guys.
Here's how Quickword displayed the .docx version of our test Microsoft Word file: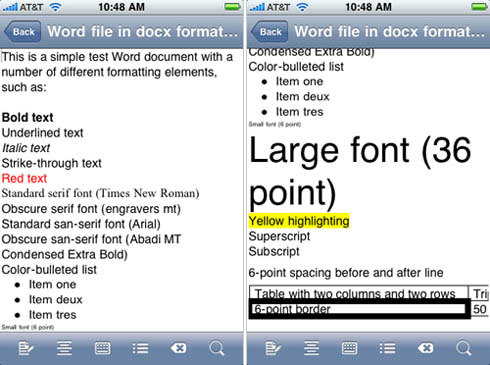 Our .docx file came through just marginally more correct than our .doc file
Not much different, right? The opening text is the correct size and that odd colored bullet is gone, but all else is identical to the .doc version.
Oh, and don't worry about the fact that the table is cut off on the right-hand side. A simple flick of a finger brings it into view - albeit without most of the formatting from the original Word file. You can also simply pinch a document to enlarge or shrink it, and the text will wrap to fit the display.
Although the formatting in Quickword doesn't match up with the formatting in the original Word file, Quickword doesn't muck it up either. When we exported the Quickword-opened files back onto our Mac, they opened with all their original formatting intact. That was a relief.
Speaking of formatting, Quickword offers basic formatting capabilities such as font size and color, bold and italic, text alignment right or left but not justified, and simple bulleted lists. It also supports the iPhone OS 3.x cut, copy, and paste system, and it offers its own straightforward search tool.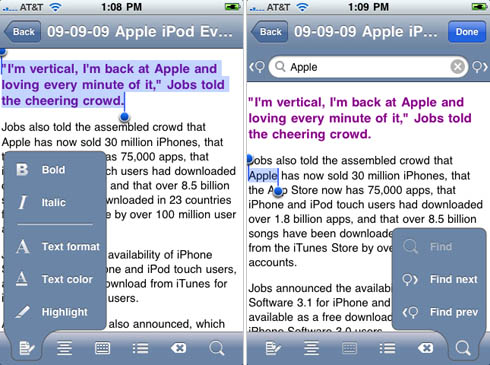 Formatting choices are simple (left) and the Find command uses Apple's selection UI (right)
Typing into Quickword is as simple - or as maddening - as typing into any iPhone app. Same with cut, copy, and paste. Landscape mode is supported, and Quickword uses the same predictive-spelling engine as does Apple's iPhone apps. Just remember to turn on Auto-Correction in your iPhone's Settings > General > Keyboard dialog.
Tapping and holding magnifies the display as opposed to bringing up the iPhone-app magnifying glass. Some may prefer this method of accurate cursor positioning, but we found it distracting for magnified text to disappear off the edge of our iPhone's display, making contextualizing your edits more difficult.
One cutesy touch that we found annoying: To undo an action, you need to shake your iPhone, which brings up an Undo/Redo dialog. A simple button would be easier to deal with, in our opinion.
Sponsored: Minds Mastering Machines - Call for papers now open