Microsoft Office for the iPhone (without the Microsoft)
Why wait for Redmond?
File transfer
Files can be loaded onto your iPhone using a number of different methods. The most basic is Quickoffice's browser-based service, for which you simply enter an IP address provided to you by the app into a browser on your Mac or PC, navigate to the file you want to upload, then click a button. Simple and straightforward.
Explorer, Firefox, and Safari are Quickoffice's supported browsers. When we asked about Opera and Chrome, a spokesperson told us that although they "don't expect problems with Opera or Chrome," the app has only been tested using the Big Three.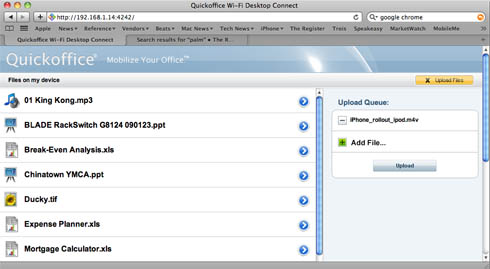 Browser-based file transfer is brain-dead simple
If you want, you can supply a username or password to guard against others on your wireless LAN from accessing your iPhone-stored files. Highly recommended.
If you have an account on Apple's online MobileMe service, you can add that account to your Quickoffice startup screen and directly access files from your MobileMe iDisk. Transfers can also be made from your iPhone to your iDisk as well.
Quickoffice also allows you to access files that you've received on your iPhone as email attachments. The system is a wee bit kludgy - you need to forward them to yourself through Quickoffice's servers - but it worked for us without a hitch.
Our favorite method for loading and unloading files to and from our iPhone, however, was to mount the iPhone itself on our Mac's desktop as a WebDAV-based wireless volume by entering an app-supplied IP address in our Mac OS X Finder's Go > Connect to Server dialog.
Setup for Vista or XP is almost as easy, and when we asked about Windows 7, Quickoffice said: "We expect this support to continue to work under Windows 7, although we have not yet tested in this environment."
Mounting your iPhone on your desktop not only makes moving files back and forth simplicity itself, it also allows you to use your iPhone as a wireless hard drive for any other purpose. Bonus.
In our testing, all file-transfer methods worked as advertised: email attachments, browser, to and from MobileMe (including emailing), to and from from the iPhone mounted as a volume, and in and out of folders we set up on Quickoffice on our iPhone. The UI used to perform some of the transfers wasn't always intuitive - especially in the case of MobileMe - but all worked without a hitch.
Sponsored: Minds Mastering Machines - Call for papers now open