Disgruntled parrot lays into copper
Pirates of the Caribbean star gives rookie some stick
A rookie police officer suffered scratches and bites to his hands and arms after being asked to escort a celebrity parrot to a Dover police station, the Telegraph reports.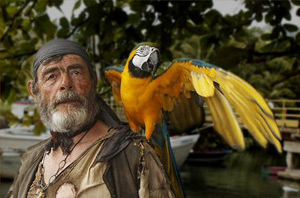 The owner of the 3ft wingspan macaw was pulled at Dover ferry dock after an officer spotted the bird loose in her vehicle. She was cuffed after checks showed she was banned from driving, and PC Martn Dadd, being "the officer with the least length of service", was "volunteered" to drive the car to "a more appropriate location".
Chief Superintendent Steve Masters, of the Port of Dover Police, explained: "A very nervous probationary officer then proceeded to drive the vehicle to the police station with great difficulty and an equal amount of dexterity as the macaw perched itself on the steering wheel pecking at his fingers throughout the journey."
Police later discovered the disgruntled bird was an A-list avian who appeared in Pirates of the Caribbean: The Curse of the Black Pearl (see pic). Masters said: "A relative of the lady came to pick up the macaw and told us that it had been used in the Pirates of the Caribbean movie. It was a bit of surprise I must admit to end up with a celebrity on our hands."
The cantankerous macaw's owner was bailed on a charge of driving while disqualified, and will appear before magistrates at a later date. ®
Sponsored: Minds Mastering Machines - Call for papers now open