At standard clock speed, the QX9650 sets a decent standard but it was beaten in most of the benchmarks by the i7-940. The i7-870 takes things a step further and trounced the i7-940 in every test, presumably thanks to the enhanced Turbo Boost and despite the reduced memory bandwidth.
More impressively, this extra performance is delivered with a power draw that is 40W less than the i7-940 consumes.
Power Draw
Windows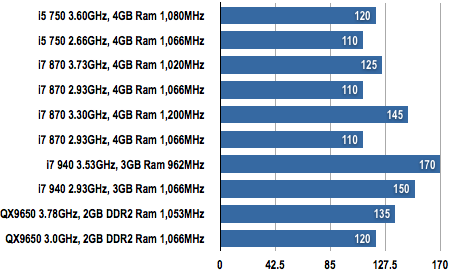 Power Draw in Watts (W)
POVRay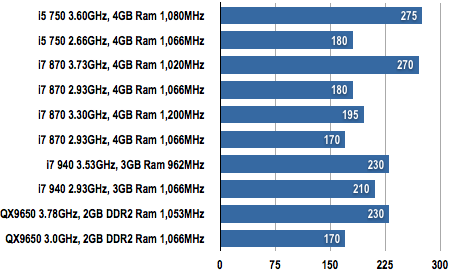 Power Draw in Watts (W)
The comparison at standard clock speed was fairly straightforward but matters became more complicated when we started overclocking. The first candidate was QX9650. We disabled SpeedStep, increased the CPU core voltage by 0.2V and cranked up the frontside bus from 333MHz to 420MHz to give a clock speed of 3.78GHz.
Next, we moved on to Core i7-940. Again, we disabled SpeedStep and increased the QPI voltage by a hefty percentage from 1.1V to 1.5V. With that done, we could raise the base clock from 133MHz to 160MHz to give a clock speed of 3.53GHz. That's fairly unimpressive as we have regularly achieved clock speeds of 3.8GHz and 3.9GHz with the i7 920.
Our 3.53GHz Core i7 had performance that was almost identical to the 3.78GHz QX9650 with the exception of DivX 7 recoding as Core i7 supports SSE 4.2 which gives it an advantage over the Core 2's SSE 4.0.
COMMENTS
Comparisons
Jonathon, in the Lynnfield preview we used the Core 2 QX9650 as a base line as that was the processor that Intel used at IDF and we were trying to stay within the NDA on performance figures. Intel presumably selected the QX9650 as the clock speed was the same.
We also compared the Core i5/Core i7 800 with Core i7 900.
now there's a fair comparison.
Umm, why does everyone compare the new chips to the olde QX9650.
The Q9650 was vastly superior to the QX in everyway. and a fairer comparison as it was in the last "tock" of the family.
Bit like comparing a DX4 100mhz to a pentium 4 isn't it? (purposly exagerated).
Happiness is the moment between when you do something; and when you tell a woman what you did.
860
Find it a bit odd Intel didn't send out the 860 to benchmarkers, the 870 is stupidly over priced for the marginal clock bump over the 860.
That said, the reasonably priced, lowish power 750 is clearly designed to hurt AMD (although the comparatively expensive motherboards prevent the intels matching AMD) and they want to show off the most powerful of the new line. Guess showing off the 860 would just highlight the bizarre 870 asking price.
I've placed an order for a 860 to replace my e6750, should be quite a nice performance boost when coupled with the new ATIs that get shown off tomorrow.