Philips demos specs-less 3D TV
But may never launch it
A Philips business partner has demoed one of the electronics giant's 3D screens. Unlike most 3D TVs, this one can display HD content without the need for polarising or active shutter glasses.
The set lacks an official name and its full specifications are a closely guarded secret. However, a spokeswoman at the Fraunhofer Institute for Telecommunications (FIT) in Germany – designers of the 3D car dashboard – recently showed Register Hardware the set.
When we stood in front of the telly, its 3D capability was immediately clear. The screen was showing Pinocchio, and we had to duck out the way as his nose grew towards us. Well, almost...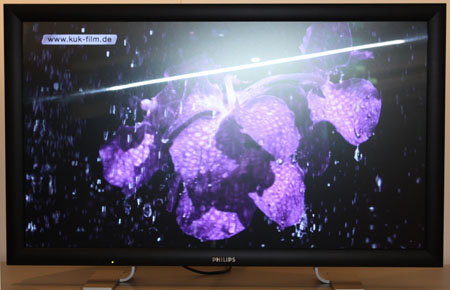 Philips has apparently pulled the funding plug for spec-less 3D TV
The set required us to remain still in order to see a 3D image. The system defines nine viewing "zones" - separate ranges of viewing angle in which the elements of the image overlay to generate the 3D picture.
Outside the zones, all you see is a blurred image.
Only content filmed with a dual-lens 3D camera can be displayed on the set, the spokeswoman added.
Since we had no way of measuring the set's display quality, we'll have to take FIT's word for it that the Philips set was running at 1080p.
Philips is cautious about 3D TV's future and currently considering three possible routes to mainstream adoption, only one of which would enable viewers to watch content without the specs.
Unfortunately, it may never make it to market. "Philips cancelled their 3D TV investment [in the division developing the set we saw] a few weeks ago," the FIT's spokeswoman claimed.
So, for the time being at least, it seems that Philips is down to just two possible methods of 3D TV display – both of which will require you to wear special glasses.
How long does the FIT think it will be before you can buy a specs-less 3D TV in stores? That's up to Philips, apparently. ®
Sponsored: Minds Mastering Machines - Call for papers now open