Dell Latitude 2100
Bash Street's favourite netbook?
Quick guide to disaster recovery in the cloud
When subjected to the usual Reg Hardware battery inquisition of playing a standard definition H.264 video through VLC media player at full screen with the Wi-Fi radio on and the screen brightness and volume turned up to max, the 2100 managed four hours and three minutes, which is quite a bit shy of the five hours eight minutes the Mini 10v managed with the same processor and – presumably – same capacity battery.
Video Playback Battery Life Test Results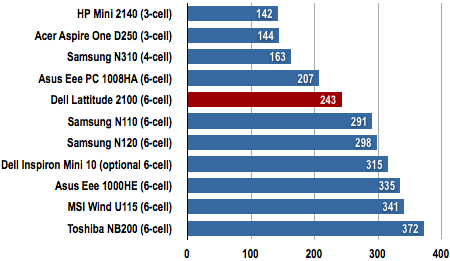 Battery life in Minutes
Longer bars are better
While the physical integration of the six-cell battery into the 2100's case is still hardly what you'd call subtle, Dell has made more of an effort than it did with the 10 or 10v, both of which look like the larger battery has been stuck on with superglue.
Pricing up a Latitude isn't the easiest of pastimes unless you happen to be buying on behalf of a regional education authority or an IT department that needs several hundred machines. Do it on the regular Dell consumer website and some of the options won't be available – like the 2GB memory in our test machine – and the price will be on the high side. This is because most Latitude sales take place through bespoke sales sites that are set up specifically for bulk buyers with a pre-agreed price structure.
But a senior Dell manager told us that the Latitude sales team are allowed to negotiate, even over a single-unit sale. If you decide to buy three machines – one for you, one for the missus and one for little Johnny or Jennifer - then so much the better. Dust of your best fake French accent, pretend you are buying a carpet in the souq and haggle for all you are worth.
Verdict
Its rather angular design aside, we think the Latitude 2100 is the best Dell netbook to date. The rubberised coating should ensure long-term survival even in the hands of nippers, while the option of 2GB of Ram, the revised SD card slot design and the solid, well profiled keyboard should appeal to users of more advanced years. The touchscreen is an interesting option and proved more useful than we expected. On the downside, the battery life is a bit on the poor side for a machine with a six-cell unit. ®
More Netbook Reviews...

Dell
Inspiron Mini 10

Samsung
N110

Toshiba
NB200

Acer
Aspire One D250

Dell Latitude 2100
If you can bargain for the right spec Latitude 2100 at the right price, you'll have an excellent netbook and one we prefer to Dell's 'consumer' version.
Price:
From £259 exc. VAT and shipping RRP