Dell Latitude 2100
Bash Street's favourite netbook?
The keyboard is also an improvement. It's no bigger than the one on the 10 and 10v, but the keys themselves are physically deeper and have a more positive action. It also has page up and down buttons next to the cursor keys in place of the 10's blanking plates. The touchpad eschews the 10's single-piece design and click-bar combination in favour of a more traditional layout with two separate buttons below the 62 x 35mm pad.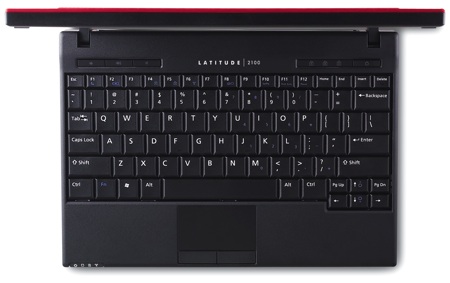 A better keyboard than the ones on Dell's other netbooks
The touchpad may be small, but it's very well calibrated and has a surface that's pleasant to the touch. The buttons have a near perfect action. It also supports basic multi-touch, so a two-fingered pinch will zoom you in and out of your documents and web pages. Dragging your finger up or down the right-hand edge of the pad initiates a scrolling action.
The 2100 comes with a full suite of status lights, something that the 10 and 10v have both been criticised for lacking.
A long white LED sits on the outside of the lid. Apparently, this can be set to flash when the machine accesses the internet, the idea being that a teacher can thus see if one of her class of little monsters is looking at the net rather than paying attention. For those of us to whom school days are just a distant memory, the light is a handy reminder that your netbook is still on if you've slammed the lid shut while it was running.
We are happy to report that sanity has dawned a Dell: the SD card slot doesn't leave the card's backside hanging in the wind as the Mini 10 does but rather lets it slide in almost flush. That's handy if you want to specify your 2100s with a small SSD rather than HDD storage and plan on leaving an SD card in situ.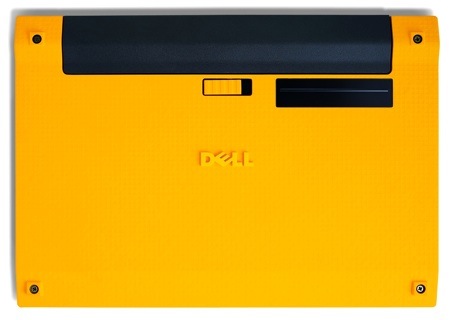 You have to remove the base to get to the spare Dimm slot
The optional matte touchscreen is another feature unique to the 2100. It was only when we got to play with a netbook with a touchscreen that we realized how useful it can be, especially for a little light web browsing. Once calibrated, the resistive panel proved remarkably easy to use with even the smallest web links registering at first touch. The sticky rubberised bottom of the 2100 pays dividends when the screen is being poked, preventing the machine from sliding away at each touch.