Dell Latitude 2100
Bash Street's favourite netbook?
Sadly, buying from Dell's Latitude range doesn't give you total access to the Dell parts bin, so while you can have an 80, 160 or 250GB HDD, or an 8 or 16GB SDD, you can't have a 1366 x 789 screen. 2GB of Ram? Not a problem. Built in GPS or digital TV tuner? Alas not, but you can have Ubuntu 8.10 as your OS and a 1.3Mp webcam.
PCMark05 Results
CPU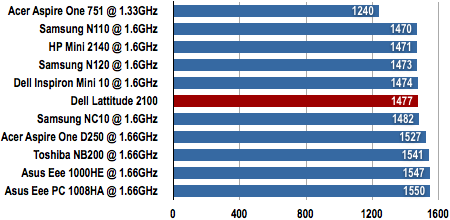 Longer bars are better
The PCMark05 numbers we got from a 2100 fitted with 2GB of memory, Windows XP and a 160GB 5400rpm Sata hard drive were exactly what you would expect from an N270-powered machine with that amount of memory, the CPU test being almost exactly average but the memory and HDD tests being slightly better.
Incidentally, we have spent time with an identical machine fitted with Vista Home Basic and can report that it ran with a fair old lick of speed.
With an Atom processor and associated Intel GPU under the hood, HD video playback is a bit of a struggle but we were pleasantly surprised to discover that installing the CoreAVC H.264 codec enabled Windows Media Player to run a 1080p file at full screen with no problem at all. Sound quality also benefits from Dell's decision to put the stereo speakers either side of the screen as per the Samsung N120 rather than bury them in the chassis.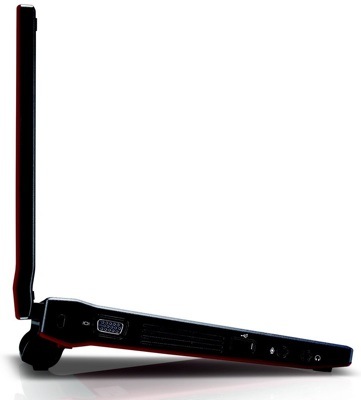 The six-cell battery still pokes rather
Though you might expect the batteries fitted to the Latitude and Inspiron Mini to be the same, you'd be wrong. While the 2100's three-cell battery holds more energy than the Mini's: 28Wh versus 24Wh The six-cell unit holds less: 54Wh versus 56Wh. At least that's what Dell says. When we yanked the six-cell unit out of our 2100 it read 56Wh 11.1v, exactly the same as the battery that came with our Mini 10v.
Sponsored: Minds Mastering Machines - Call for papers now open