Dell Latitude 2100
Bash Street's favourite netbook?
The business case for a multi-tenant, cloud-based Recovery-as-a-Service solution
In keeping with the machine's schoolyard ambitions, Dell has fitted the 2100 with two Kensington lock holes, the idea being that kids can use them to attach a strap and carry the machine about satchel-style without fear of mishap. Indeed, it's a handy feature for anyone who wants to sling their netbook over a shoulder while wandering around press conferences and the like.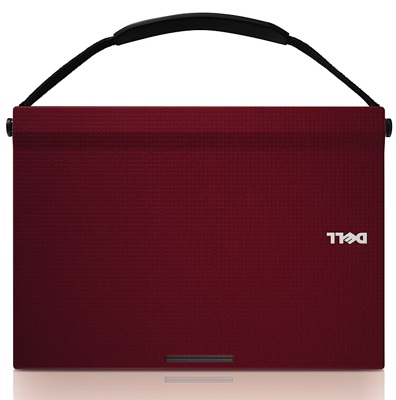 Connect the Kensington slots and you have... a 21st Century satchel
Another schoolyard touch is the message plate on the spine of the machine. The idea is to put a sticker there saying 'Property of Bash Street High School' or somesuch, but you could just as easily affix one that displays your company name and URL or phone number.
The 2100 is built from the same parts bin as the Mini 10 and 10v so at a basic level you get the same 10.1in, 1024 x 576 screen used in the the Inspiron Mini 10 - though Dell tells us it's in the process of ditching that size in favour of 1024 x 600 - and the same Intel Atom N270 1.6GHz processor with a 512KB of L2 Cache and a 533MHz frontside bus used in the 10v.
Standard wireless connectivity comes courtesy of 802.11b/g Wi-Fi and Bluetooth, though an 802.11n card is as usual available as an extra-cost option.
So far then there isn't much to chose between the Latitude and Inspiron netbooks. But look a little more closely and the basic design of the 2100 enjoys several advantages.
To start with, the 2100 comes with an extra memory slot so you can install up to 2GB of Ram. Getting at the slot to install the extra memory yourself means disassembling the machine, and the slot will only take 1GB, but its still a useful step in the right direction.

Or, with the sticker space, a 21st Century work folder?
Secondly, you get a Gigabit Ethernet port rather than the more commonplace 10/100Mb/s variety usually found on netbooks.
5 ways to prepare your advertising infrastructure for disaster