Xbox 360 'least reliable' console
Failure rate at 23.7 per cent
Microsoft's Xbox 360 is the "least reliable" game console on the market, according to electronics warranty firm SquareTrade.
In the first two years of ownership, 23.7 per cent of Xbox 360 owners covered by a SquareTrade warranty have reported a fatal system error. By comparison, 10 per cent of Playstation 3 consoles broke down after two years and only 2.7 per cent for the Nintendo Wii in that period.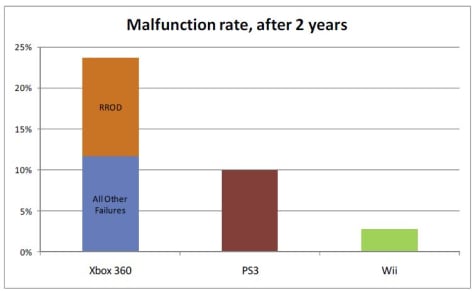 In the firm's analysis of 16,000 failed consoles in total, it found the Xbox 360's ubiquitous Red Ring of Death (RROD) failure accounts for about half of the system's malfunctions. Excluding RROD, Xbox failure rates drop to about 11.7 per cent – about level with the PS3.
Continuing to ignore RROD errors, the most frequent problem for the Xbox and PS3 were disc read errors. For the Wii, power issues were the most commonly reported problem.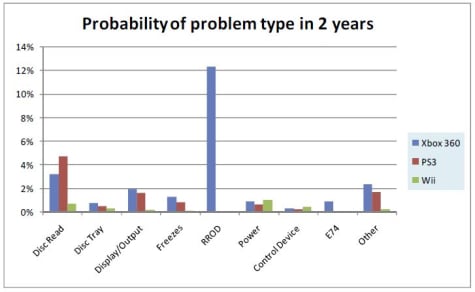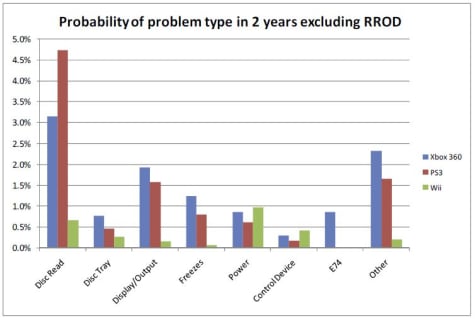 SquareTrade also found that while Xbox RROD failures were extremely prominent in 2008, they appear to have dropped significantly following Microsoft's introduction of the Jasper chipset late last year.
"It is still too early to definitively assert that Jasper has given RROD a knockout punch, but such an argument may be pronounceable in the coming months," it said.
But the warranter suspects the true impact of RROD may not be fully reflected in their data. It reckons Microsoft's well-publicized extended manufacturer warranty campaign as a result of massive RROD failures caused many customers to bypass SquareTrade and report their woes directly to Microsoft. The firm said it sent an email survey to its customers and found over half of those who experienced a RROD error went to Microsoft without contacting SquareTrade.
Other pollsters have found higher rates of 360 failures. A survey by gaming pub Game Informer in August consisting of 5,000 readers indicated an astounding 54.3 per cent failure rate in Xbox 360 consoles.
Another factor noted in SquareTrade's study was that Wii owners on average tend to spend less time playing the console. According to data gleaned from Nielson in April 2009, the average PS3 was played about 19.85 hours per month, the Xbox 17.5 hours per month, and the Wii 8.6 hours per month. But after applying the Nielson figures to its own study, SquareTrade determined the Xbox 360 still had the highest death rate with a 1.35 per cent chance of failure over 24 hours of use, compared to 0.50 per cent for the PS3 and 0.31 per cent for the Wii.
"Of the three major 7th generation game consoles, we can safely say that the Wii is the most reliable system on the market, with just one-fourth the malfunctions of the PS3 and Xbox 360," the firm concluded.
A copy of the report is available here. ®
(Graphage in this article courtesy SquareTrade)
COMMENTS
playstations
After the mistake sony made with the original playstations, and their massive failure rate, i wouldn't expect them to do it again and carefully design for possible heat damage.
with microsoft not having a problem with it before they probably weren't as aware of it as Sony. I'd expect their next console to be a lot more robust as well.
of course
Own both PS3 and Xbox and has been said elsewhere your choice until recently has been a well made piece of hardware will a disappointing library of games or a total POS piece of hardware with a better library. I hate both companies about equal and lol I only prefer the xbox because the PS3 controller is a POS (come on Sony how did you let M$ school you on this one, and drop the six axis crap nobody likes it and the Lair fail should have got your attention).
Almost 10 years old...
My wife and I brought out the old Sega Dreamcast and played some games on it two days ago. It still works like a, erm, dream after all these years. Not bad for a game system that's celebrating its 10th birthday on 9/9/2009.
I own a PS3 as well and have no problems with it at all. It is my media computer for about 50% of the time and my game system for the other 50%, so it sees a lot of usage.
@ Paul 4
Agreed, imagine the outcry if cars failed catastrophically like this, or planes, or ships, in fact, i am struggling to think of a worse failure rate for any electronics item in the last 20 years. Im sure there are some contenders but dunno what.
UK Armed forces equipment must come close though. SA-80Mk1 anyone???
Grenade 'cos thats what MS hardware designers need shoving up their poo pipes. Have THIS for a thermal failure.
@ jai
Of course it isnt, thats why its outsold both the ps3 and 360 consistantly since launch.
There, flamed.. Twat.
Paris, she's a fucking numpty too...