Nokia's £500 netbook: What were they thinking?
Booklet™ comes at a Pricelet™
Nokia's netbook is beautifully designed and beautifully finished, and the battery lasts all day. It's "more aspirational*, more thin, and more stylish" than the average netbook, according to its European marketing manager.
But at £500 it's also twice as expensive as many other netbooks - and heavier. What were they thinking?
There's little doubt that the Booklet™, as it's called, is a great looking piece of kit. It's Nokia taking an Apple approach to the market, but it's more the Apple of Jean Louis Gassee than Steve Jobs.
When the witty Frenchman ran Apple Computer's product development in the late 1980s, no expenses were spared on design and build - resulting in price points being missed. But with profit margins of 50 per cent and a pretty unique proposition (if you needed to DTP, you really needed an Apple), it could charge what it liked, and still find a few buyers.
It's a quite different world in the commodity market of bargain basement netbooks. Dell's advertising shows colourful notebooks dropping out of a sweets bag - indicating that they're cheap, cheerful and disposable. You might buy one not because you need one, but as a treat.
By contrast, Nokia has wrapped the Booklet™ in lavish packaging - throwing down the gauntlet to the Golden Goldfish crowd.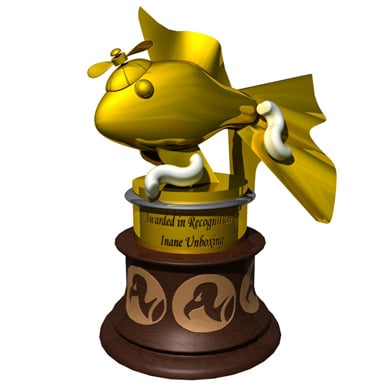 The Golden Goldfish - honouring inane unboxings
The art of over-engineering
This Booklet™ is brushed aluminium, fanless, and has a nice, roomy keyboard. All credit to the design team for this Macbook homage, the black glass surrounding the fairly ordinary 10" display, and sculpted aluminium chassis. The screen is smaller than you expect, about the only thing that felt wrong with the design. There's attention to the detail right down to the keyboard lettering.
If the hallmark of a netbook is that you can pick it up with one hand, and throw it around, look elsewhere. This isn't what you'd want to do with a Booklet™. In order to achieve the touted 12 hour battery life (or eight hours, if you're pounding the WiFi), Nokia packed in a 16-cell 3,840mAh battery which adds to the weight: 1.25kg. That's 2.75lb in old money - half a pound heavier than the old Thinkpad X23/30/31 series.
Other than the power, the specifications aren't remarkable. An HSDPA 3G SIM is built in, although this is hardly unusual these days. Nor is an HDMI port - Dell has one of those on its Inspiron mini 10, a model which also boasts a TV tuner. Other than that it's Windows 7, and a couple of Ovi widgets.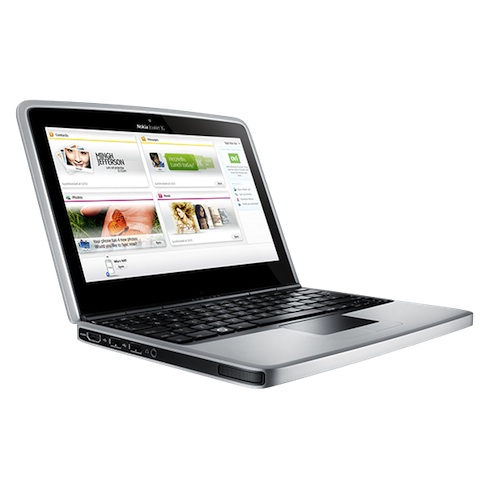 Performance disappoints too, as you'd expect running Windows 7 in 1GB of memory. The Ovi Suite takes 30 seconds to fire up. My Computer reported it scored 2.2 on the compatibility test. Maybe it'll improve nearer ship time, or with more memory.
So is the Booklet™ a vanity product, designed simply to draw attention to Nokia's return to the PC business with a large splash? Maybe it's not completely bonkers. Nokia evidently hopes operators will subsidise the device, and treat it as a phone - you buy it on hire purchase, effectively. Attractive as it is, I can't see many people forking out the full €550, no matter how stylish it is.
For the rest of the specs, hop over here. ®
Bootnote
Um, what does a Booklet™ aspire to? Apart from more memory.
Sponsored: Minds Mastering Machines - Call for papers now open