Desktop virtualization: More than a little interest
Like the idea, but what's the reality?
Another fascinating return concerns that more respondents rate themselves as 'expert' or having 'competent hands on' knowledge of VDI based on shared server architectures rather than on a dedicated 'blade per desktop' model. Once again this may reflect the overall state of play and maturity of the market; conceptually at least, shared server models are more complex.
Unsurprisingly, as shown in the second figure deployment of desktop virtualization solutions largely reflects knowledge levels, but it is interesting to see how newer models, such as VDI and application streaming, appear to have significant numbers of pilot projects or selective rollouts planned or under way.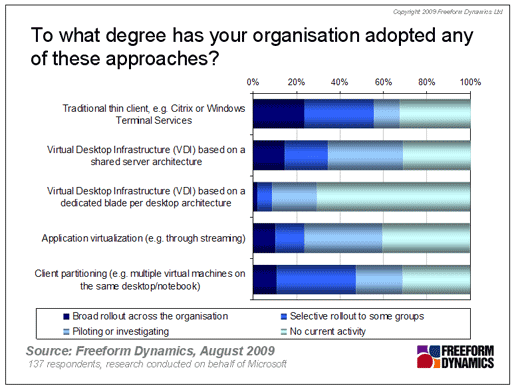 Turning attention to the needs of different user groups, for virtualized desktops it seems that few such groups are entirely out of the question, with the sole exception of the 'creative' workers with resource-intensive performance requirements. As the figure below shows, overall general office and transaction workers, long the mainstay of thin client deployments, top the list of users thought to be best suited to virtual desktops with IT support and development staff also high up the list.
It is interesting to note that the 'mobile worker' and 'office based power user' categories attract considerable attention as potential users of virtualised desktops as these users have traditionally not been seen as suitable candidates for thin client offerings.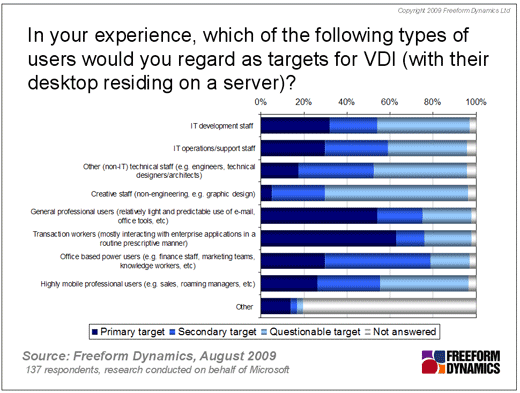 Sponsored: Minds Mastering Machines - Call for papers now open