Desktop virtualization: More than a little interest
Like the idea, but what's the reality?
A point to note is that while view of 'actual' desktop virtualization deployment across different user categories overlaps with the above, as we see in the following figure it is within IT that it is more likely to be deployed.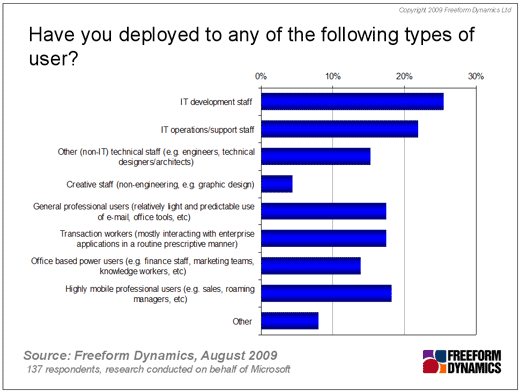 When it comes to barriers to the adoption of virtual desktop solutions, the main factor appears to come down to 'cost' – which is interesting (as the implication is fewer are questioning the need). Close to the bottom of the list are challenges in the areas of skills, management solutions and the maturity of the solutions.
The low profile of management challenges is interesting when looked at in the light of research we have carried out that identifies the daily management of virtualised x86 servers to be a matter of concern, and we have little doubt that this will become a bigger concern as time rolls forward.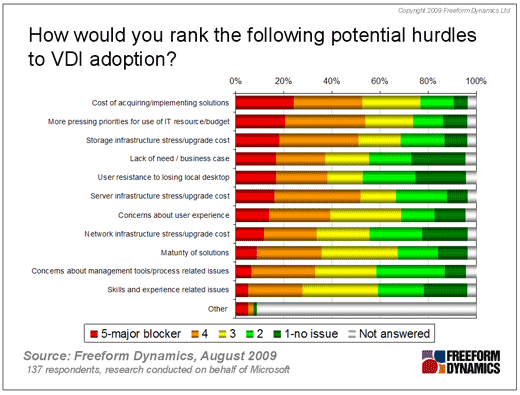 When it comes to the benefits of using Desktop Virtualization solutions, we find increased flexibility and greater security are perceived to be the most likely to be attained. Better cost profiles, happier IT support staff and lower administrative overheads are great net positives for the IT department, but with what impact?
It appears that this doesn't equate to happier and more productive users and business managers. Or is it a case of 'no less happy'? Most organisations would be happy with a 'didn't notice the difference', we suspect.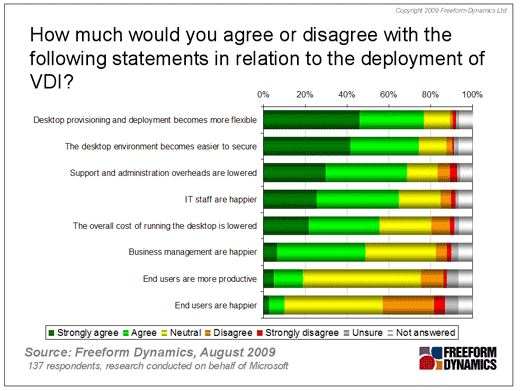 All in all it is clear that desktop virtualization (or at least many of the variations on the theme) remains in its youth. In terms of benefits and potential inhibitors it is fascinating to learn from the experience of those that took part in the survey. Their perceptions differ fairly widely from those being actively marketed by the vendor community, which is worrisome – for the vendors at least.
Sponsored: Minds Mastering Machines - Call for papers now open