Desktop virtualization: More than a little interest
Like the idea, but what's the reality?
Poll Results 'Desktop virtualization' has been an oft-heard phrase over recent years, but talk does not automatically translate into action. So what is the state of play regarding deployments of the many desktop virtualization alternatives that exist?
Earlier this week we requested your input, and here's what we have found out so far.
It is worth noting first that as with all online polls, the respondents were 'self-selecting', which means that the data collected represents a proportion of those with a particular interest in, or knowledge of the topic. Interestingly, the number of respondents for the desktop virtualization survey is just over a quarter the size of those who gave feedback on x86 Server virtualization. This alone may indicate that overall levels of understanding and experience in desktop virtualization are still comparatively low.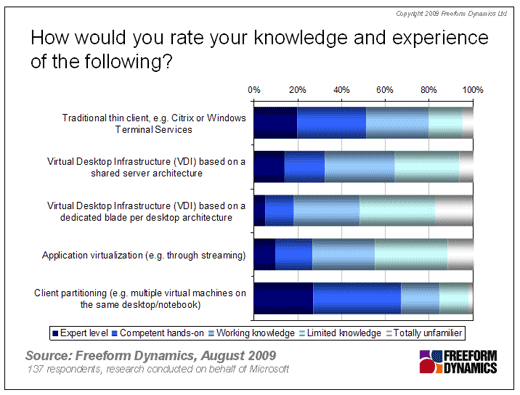 One of the most immediate issues surrounding "desktop virtualization" concerns the fact that it is an umbrella term for a number of alternative approaches that happen to offer similar results. The chart above illustrates that amongst our respondents at least, there is quite widespread knowledge and experience of traditional thin client mechanisms, and solutions that enable multiple virtual machines to be run on a single desktop. Let's be clear: these two are not equivalent approaches, but it is important to note the breadth of this apparently simple domain.
Sponsored: Minds Mastering Machines - Call for papers now open